Deborah Carter performs "Diggin' the Duke" at the Mugham Center, Baku.
Deborah J. Carter – vocals
Efraim Trujillo – saxophones (special guest)
Leo Bouwmeester – piano
Mark Zandveld – bass
Gunnar Graafmans – drums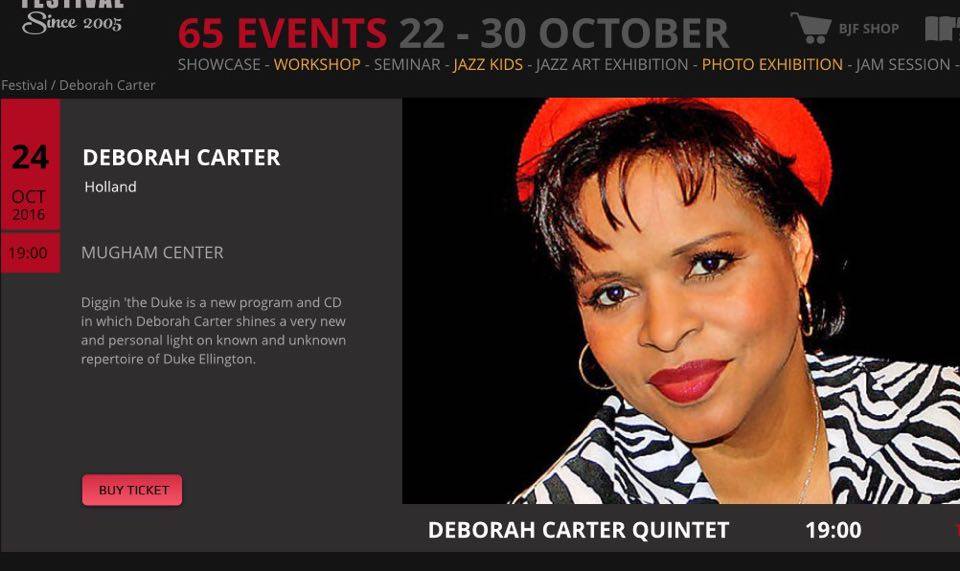 Deborah J. Carter – Diggin' the Duke
Diggin 'the Duke is a new program and CD in which Deborah Carter shines a very new and personal light on known and unknown repertoire of Duke Ellington. Deborah Mark Zandveld, and Leo Bouwmeester wrote, from a contemporary perspective, new arrangements to his compositions, and Deborah composed original lyrics to a few of his instrumentals. They use a variety of swing, Latin and fusion rhythms and adventurous harmonies.
Deborah J. Carter, known for her dynamic and warm stage personality, was born in the USA and grew up in Hawaii and Japan. She performs at jazz festivals and jazz clubs, gives master classes, and appears inn the media worldwide. She is touring with her own trio or as a guest with various formations ranging from a single piano to large ensembles like the Metropole Orchestra and Hessische Rundfunk Orchestra and Bigband.
Press quotes:
"Arrangers Bouwmeester and Zandveld show in their virtuoso and respectful relationship with the work of Duke what a power his compositions still contain. Finally, Ellington's legacy seems to fit Deborah Carter like a glove. With 'Diggin 'The Duke', she has delivered a magnificent homage.
Jazzenzo, David Cohen