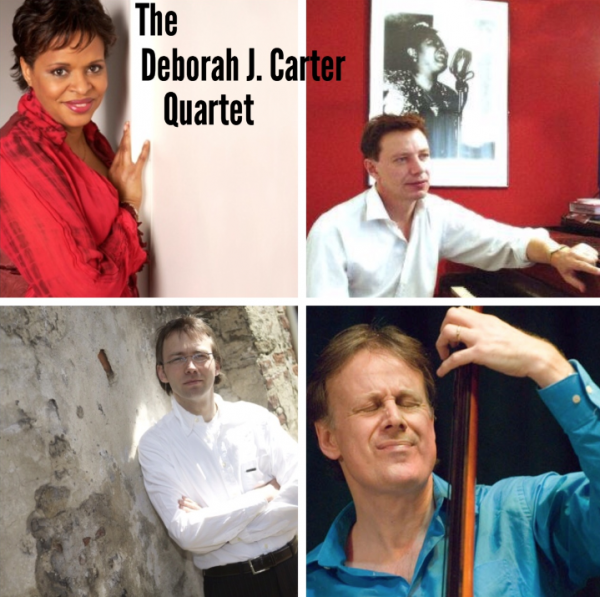 The Deborah J. Carter Quartet will perform music of their CD Diggin' the Duke during the Club Night of the 2016 International Jazzahead congress / festival in Bremen, along with other Dot Time Records artists.
Deborah J. Carter – vocals
Leo Bouwmeester – piano
Mark Zandveld – Bass
Gunnar Graafmans – drums
More info on "Diggin the Duke" : http://deborahcarter.com/?page_id=2755
Diggin 'the Duke is a new program and CD in which Deborah Carter shines a very new and personal light on known and unknown repertoire of Duke Ellington. Deborah Mark Zandveld, and Leo Bouwmeester wrote, from a contemporary perspective, new arrangements to his compositions, and Deborah composed original lyrics to a few of his instrumentals. They use a variety of swing, Latin and fusion rhythms and adventurous harmonies.
"Arrangers Bouwmeester and Zandveld show in their virtuoso and respectful relationship with the work of Duke what a power his compositions still contain. Finally, Ellington's legacy seems to fit Deborah Carter like a glove. With 'Diggin 'The Duke', she has delivered a magnificent homage.
Jazzenzo, David Cohen
These are not run-of-the-mill arrangements: each time she adds a deliberate original touch to known and lesser known pieces. Purple Gazelle from the lp Afro Bossa (which Ellington first called Angelica) is a good example. Deborah Carter adds a witty and brilliant twist to it."
Jazzism – Coen de Jonge
Diggin' the Duke has become a tasteful, distinguished document which will find it's way also outside of the jazz world, because Carter seems attractive to a wide audience.
Jan Jasper Tamboer – Het Parool
Carter totally respects the grand works of Ellington but has no trouble to present completely original versions of classics like "Solitude", "Satin Doll", "It Don't Mean a Thing" and "Don't Get Around Much Anymore. It all sounds natural and swings like hell.
Hans Invernizzi – Jazzflits
Diggin 'The Duke is an excellent jazz album by a pure jazz singer, which I believe deserves more attention and credit than is already the case. Absolute must for any jazz lover!
Fred Pach – Muziekwereld
The full schedule:
7:30 (19:30) Simona Parrinello
8:30 (20:30) Chris Rand
9:30 (21:30) Deborah Carter
10:30 (22:30) Shez Raja
11:30 (23:30) Jazzahead Official Jam Session