Deborah J. Carter performs with the Julien Coriatt trio, also with Efraim Trujillo on sax.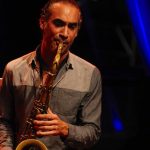 Depuis 2009, l'Association Festival  d'Ambleny, créée à l'initiative de Bastiaen van Nooten et de Yvan Checler, organise chaque année au mois de Juin deux concerts de Jazz. 
Ces manifestations entièrement, gratuites, se déroulent dans le site merveilleux du Château de Vic-sur-Aisne mis à notre disposition ainsi que dans la salle de  la Vigne Catherine à Ambleny. 
Pour animer ces concerts, nous avons toujours recherché des Groupes de musiciens de grande qualité, souvent renommés et avec une carrière internationale.
C'est ainsi que des artistes français, hollandais, américains, brésiliens et caraibéens, pour ne citer qu'eux se sont produits pour notre plus grand plaisir.
Nous avons pu présenter ces concerts grâce à des financements   publics – Conseil Départemental de l'Aisne, Conseil Régional des Hauts de France, Communauté de Communes Retz en Valois, Fédération des Œuvres Laïques de l'Aisne, Commune d'Ambleny- et aussi de participation de sponsors privés.
L'organisation est assurée par des équipes de bénévoles membres ou non de notre Association.