De "golden age of the big bands" ligt alweer een tijdje achter ons. Of toch niet?
De big bands zijn weer terug en helemaal hip!
De Blue Tone Big Band werd in de nadagen van het swingtijdperk opgericht en 65 jaar later bestaat de band nog steeds (en gaat nog lang niet met pensioen). De band houdt de combinatie van big band muziek en entertainment in ere. En niet alleen met het traditionele repertoire, maar ook met werk van hedendaagse componisten en arrangeurs.
De band staat onder leiding van Bart Tuinman, een gerenommeerd trompettist met jarenlange ervaring als musicus, bandleider en entertainer. Bart speelt in vele jazzensembles en is een podiumdier in hart en nieren. Als geen ander weet hij de orkestleden te inspireren en het publiek te vermaken.
De bandleden zijn gedreven liefhebbers die al vele jaren met plezier musiceren. Geïnspireerd door de muziek, elkaar en vooral ook het publiek  wordt er "op het puntje van de stoel" gemusiceerd. De optredens van de Blue Tone Big Band zijn altijd een plezier om naar te luisteren en te kijken.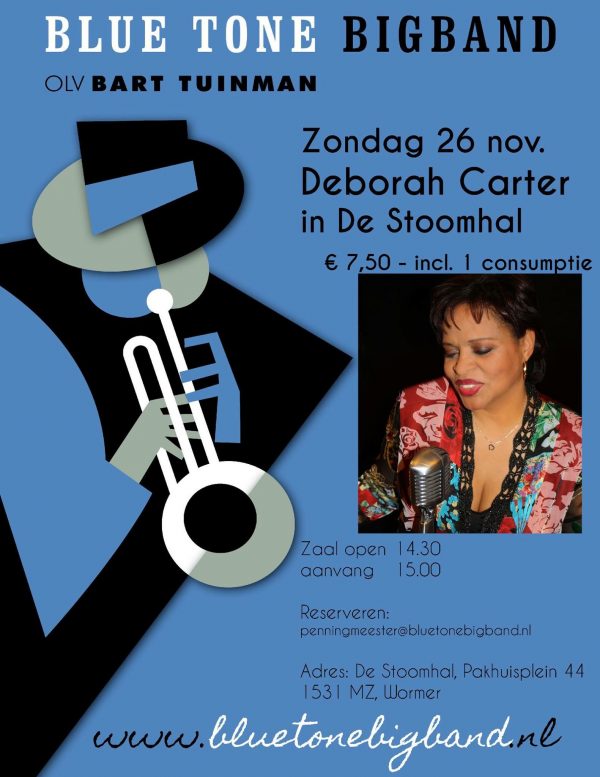 http://www.destoomhal.nl
De Stoomhal
Pakhuisplein 44
1531 MZ Wormer