My adventure-filled 2014 ended in the most magical and surprising tour imaginable – India! It was always recommended by my well-traveled friends as the place that must be visited before leaving this earth, and, according to them, each one that visits India eventually finds their own purpose for being there. (No, I won't tell you mine in this blog, but if you really, really need to know…I'll let you invite me to lunch, and we'll talk.)
It was all thanks to very diligent and consistent planning on part of my husband/coordinator/bassist, Mark Zandveld, who managed to navigate us through a sea of paperwork, solicitations, and documents in order to realize this dream.
We were there from the last week in October to the 2nd weekend in November. The team consisted of great musicians and good friends: Mark Zandveld (husband) on bass, Gunnar Graafmans on drums, and Leo Bouwmeester on piano.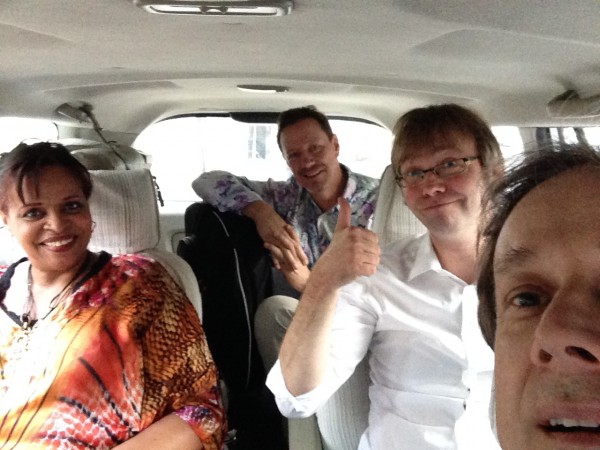 Accompanying us was our organizer, guide, and friend Anand Singh Bawa from New Delhi. He is a staunch supporter of jazz in India.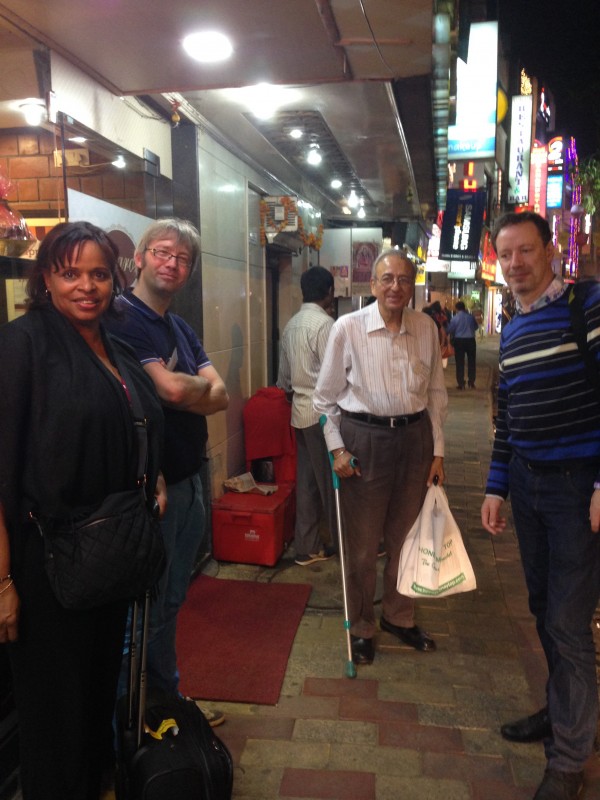 We were there for two weeks, from the end of October to the beginning of November, not only for the purpose of performing, but giving workshops and masterclasses as well; 14 in total! Phew!
The cities we visited were Delhi, Chennai, Cochin (Kochi) , and Mumbai (also called Bombay).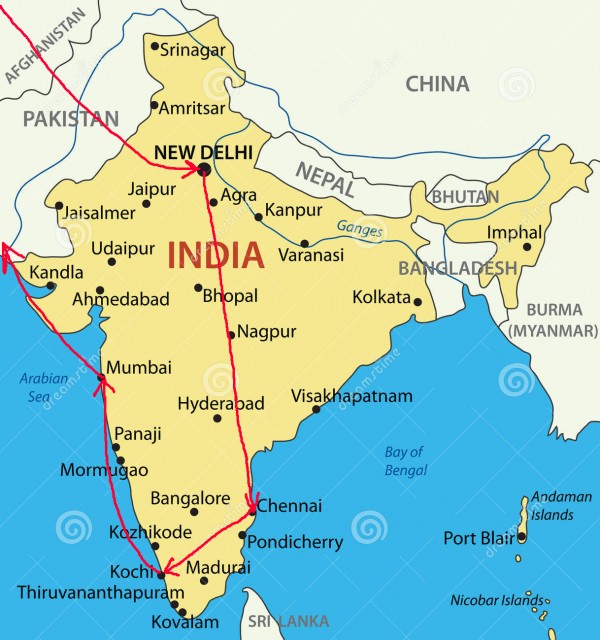 NEW DELHI
Our first destination was the city of New Delhi, in the province of Delhi. (Just so you know the difference.) It's where we had the most activities of our tour.
A few hours after landing in India – and after a nice long nap – We gave a 'jazz history timeline' concert at the New Delhi International Centre on our first day. It was a nice 'opener'.
Next, we did a two-day stint at a very big private middle-and-high school called the American Embassy School.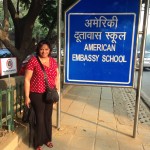 In spite of it's name, this private school – made up of kids and teachers of 65 different nationalities – it is attended by the children of employees from  the majority of the embassies in New Delhi, as well as the children of business execs in the international community. It's  a gigantic fully-equipped, state-of-the-art school with an enrollment of approximately 2000 students and our task was to give 10 workshops – in two days – to the various ensemble and music classes. It was part of their 'Visiting Artist Series'. Each day was also concluded with a performance. Definitely not a gig for the faint of heart!


The school has around 6 music teachers, of various functions and levels, which tells you how many music classes there are. We worked mainly with the ensemble teacher Jami Bolton, and her kids. She made me think of my main music teacher, Ralph Cabret, who is still my hero.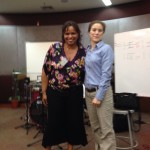 Jami did a great job with those kids. She had a very open-minded approach to music education, so not only did she have the students work on classical pieces throughout the year, they also played modern and pop pieces, in addition to having some knowledge of the blues and improvisation. It made our job easier, though it still required an intense level of energy to get through the day and give as much in the last class as we did in the first.
I had not often done workshops with musicians so young, but I could count on the experience and expertise of co-workers, Mark and Leo and ESPECIALLY my drummer Gunnar who was instrumental (literally) in making our format more accessible.
Some workshops were about jazz history, some were about the fundamentals of the blues, and others about basic improvisation. Our main mission: to make sure the students were both learning and having F.U.N.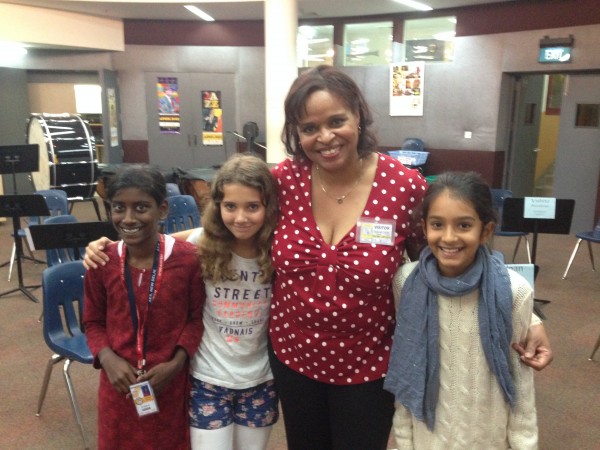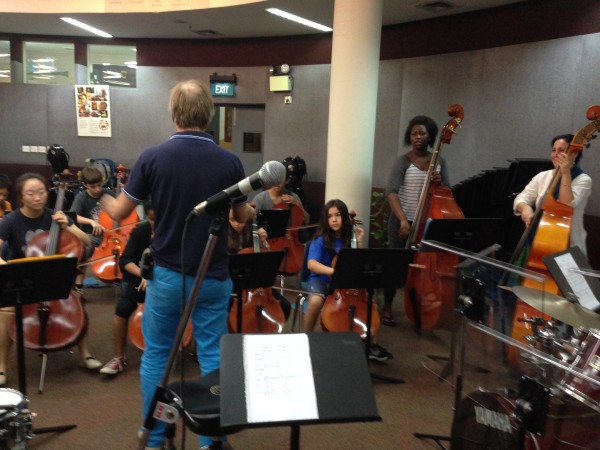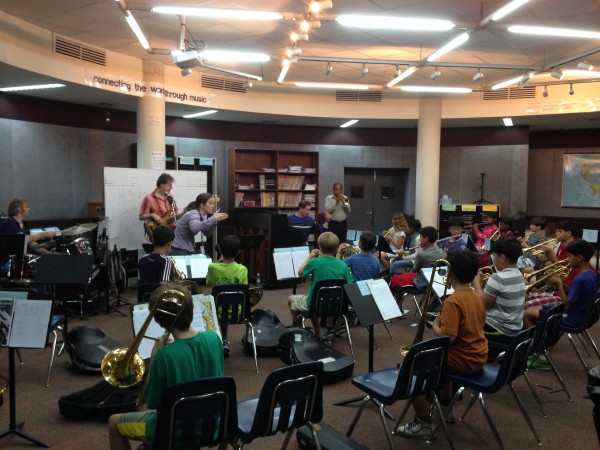 In New Delhi, luckily there was a free day for some tourism and a bit of shopping (I got spices and tea), though we were still in a daze from our marathon workshop on the previous day. We had a pretty nice time hanging in the center of town, after visiting the famous Red Fort.
I am crazy about tuk-tuks – in any country – so I couldn't resist the photo op, below. As always, when I'm in a tuk-tuk…I can't stop giggling like a teenager!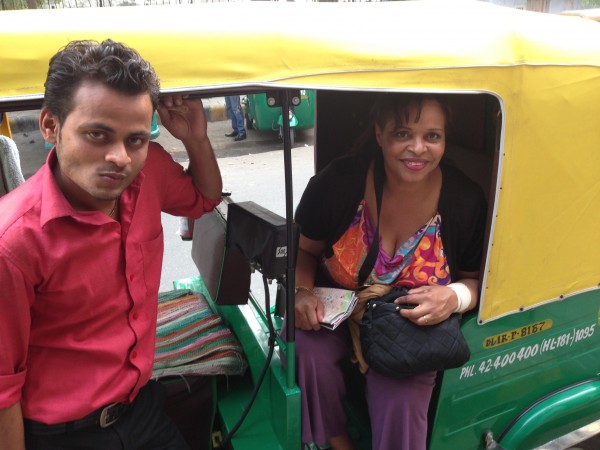 On our last night in Delhi, we performed in the Utsav Jazz Festival, formerly known as Jazz Yatra festival, which was celebrating it's 30th anniversary.
Yes, jazz in India goes way back and it's a very rich and colorful one at that. (As if their own amazingly intricate and diversified music wasn't enough!) It's no wonder we had such enthusiastic openness for our music wherever we played there.
The performance before ours that night, was by Diego Amador, a very flamboyant and virtuoso flamenco pianist and vocalist. How often do you see a pianist singing AND playing flamenco on the piano?
We already had a CD of his in our collection and it was a thrill to see him live, and hang out backstage with the whole band. (Left to right, Diego Amador, Mark Zandveld, Anand Singh Bawa, me, Gunnar Graafmans, Leo Bouwmeester)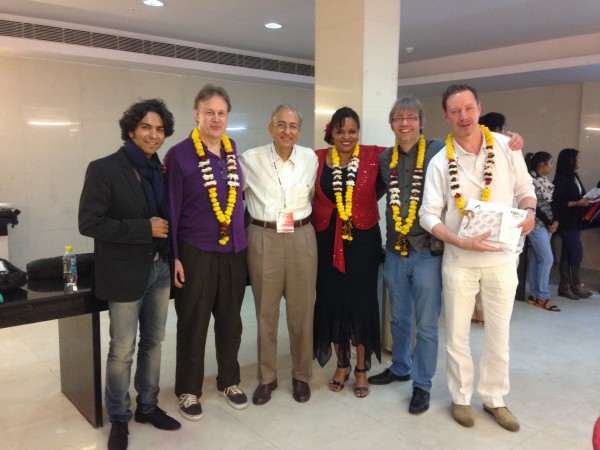 CHENNAI
From Delhi, we flew to Chennai. We were going to be there just under 24-hours, just to give a concert at the Taj Club House – a hall located inside the beautiful Taj hotel. They have concerts there regularly and the general manager, Ian Dubier, could not have been more hospitable and welcoming to our musical entourage.
To begin with, as soon as we arrived, they took our suitcases, put complimentary silk scarves around our neck, and served us something sweet and cool as we checked in. We felt so honored to bring our music to them.
Our evening in Chennai flew by. We joined our audience for a marvelous buffet after the concert, and before we knew it, it was time to tuck into bed for an early flight to south India, Cochin. (Also called Kochi.)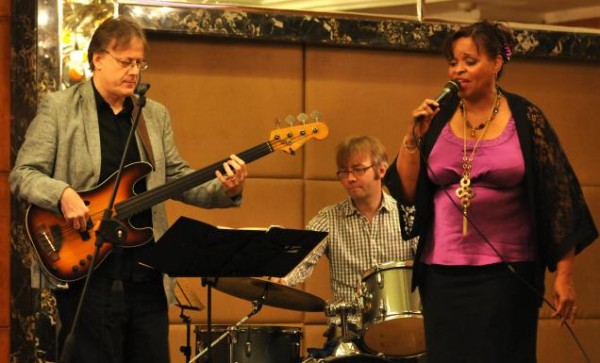 COCHIN
My first impression of Cochin, seeing so much greenness, water, and palm trees on the way from the airport to the hotel, was that it was very similar to places I remembered from my childhood in Hawaii. It was also warmer and balmier there, it being further south.
We were programmed to present our Jazz-timeline concert at the David Hall, a beautiful art gallery, restaurant, gathering place out of town. People were very relaxed in that region, friendly, and easy for a smile.
The most memorable event from our time in Cochin was the boat cruise on our day off. Our guide/coordinator Anand first took us, by boat, to a resort area, the Coconut Lagoon in nearby Kerala, for a scrumptious lunch. Afterwards, we said our goodbyes as we climbed back into the boat for a nice cruise around the area, which is called the Kerala backwaters.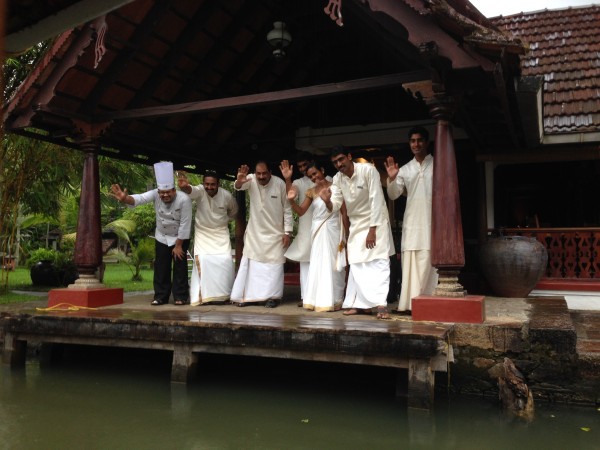 It was thrill to be cruising around there for a couple of hours, seeing the different types of waterside houses people were living in, watching them doing their laundry, watching them watching us, etc. This is also an area with boat-apartments, for tourists who be looking for something more than just any ole hotel (like me!). We did some bird-watching as well, one of my other 'side' hobbies.
If I suddenly disappear from Europe, this might be one of the places to come looking for me. 🙂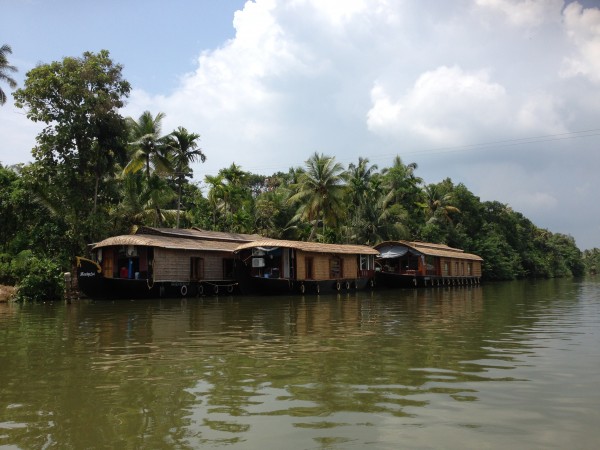 We had a very special morning on one of our last days in Cochin, giving a general music workshop to the mentally handicapped children at the Catholic Snehanilayam School. It was a challenge to come up with something that could be enriching, enlightening, yet entertaining for these lovely children, but we found it and delivered it!
The nuns told us later that most of the children – between the ages of 10 and 40 –  could not speak. Nevertheless, it was a wonder to see that they could ALL sing!
The children are well taken care of, they get a basic education (for their respective levels) and they are taught to make crafts, which were for sale. Before leaving, I snuck away and breezed through their gift shop to buy some nice things for myself  – and the guys – to take back home. (Lovely colorful napkin holders and hotplates of very good quality!)
Our performance in Cochin was set at the very hotel we stayed in, the Casino Hotel. It was a dinner concert with a very attentive audience – which we were, at that point, used to having in India. Between the sets, we sat at our 'VIP' table to enjoying a luscious nouveau-Indian cuisine. 'Not a bad deal', you could say.
Again, this was a regular event for these audience members. There were many heads bopping with hugs of appreciation and requests for favorite numbers in our breaks.  Jazz is truly reaching every corner of the planet!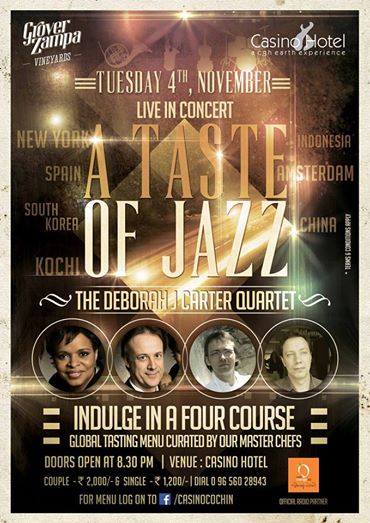 On our last afternoon in Cochin, I had exactly 90 minutes to spin around the market area with Mark and see what there was to be had, which were a some lovely silk scarves as gifts for friends and family and a whole load of hard-to-get, top-notch-with-low-price, Ayurvedic hair and face cosmetics (plus more spices).
The shop workers were amused and pleased at how I quickly fluttered through their shop, throwing things in my basket.
A girl's gotta do what a girl's gotta do!
The challenge later would be to figure out how to pack all these goodies in our luggage without getting charged extra at the airport. It went well. (Breeeeeeathe!)
Next – and final – stop…Mumbai!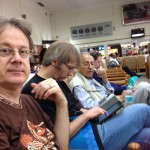 MUMBAI…also (still) called BOMBAY
Leaving  the southern side of India and heading further north, we arrived at India's most populous city, Mumbai, which originally was made up of 7 islands which were artificially merged in the 18th century. Each city we'd been in so far, had its own pace, energy, and vibe, and Mumbai's was definitely different from all the others.
Our activities in Mumbai were to do two workshops.
One was at one of the Furtado Music Schools. I say one of the schools, because it's actually a chain of music schools founded by Dharini Upadhyaya, Tanuja Gomes, and Joseph Gomes. As well as their own music schools, they provide music programs for other schools as well. It's a great idea.
We gave a jazz history presentation to the Furtado school student-musicians between the ages of early-teens and late-20's, and they were all hungry for information. That was very gratifying indeed.
Finally, on the morning of our last day, we gave a 'Intro to Jazz' workshop at at JBCN International School where the kids blew us away with what they already knew about both jazz AND blues. (It's a new day, people!)
A few things that amazed or amused me during my stay in India:
1) The fantastic cuisine. Anand always took us to great restaurants before or after our gigs and I intentionally never ordered curry in order to try all the other delicious foods available in each region that I wouldn't necessarily come across in my favorite Indian restaurants in Europe. (Anyway, they say the cuisine from most Indian restaurants in Europe is basically Bengali.)
It was an incredibly rich culinary experience, as well as a musical one.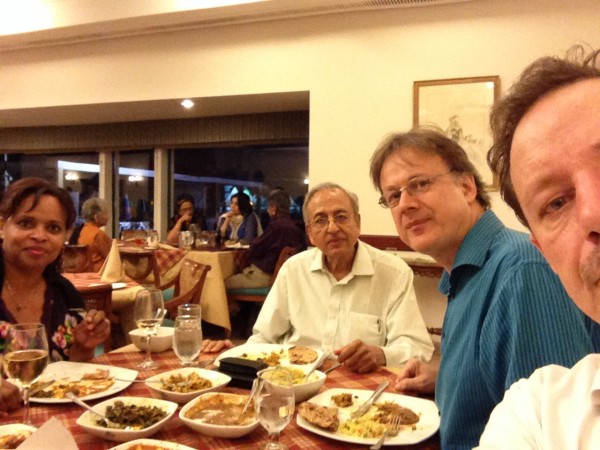 2) In spite of the fact that the image – in my head – of a typical street scene in India was that of 'cows everywhere'. In the two weeks that we were there, I saw a total of maybe 6 cows – and one of the six was tied up at the Coconut Lagoon. (Sweet as a kitten!). It was perhaps because we were in such large cities that couldn't support the presence of these sacred animals.
They have disappeared from some places and even the smallest city that we were in – Cochin – we almost got in a car accident because the 'one cow' walking on the side of the road spontaneously decided that it wanted to cross over to the other side. So yes, I can see where they'd be quite a hazard in a big city. (Thank-you, dear driver, with good reflexes!)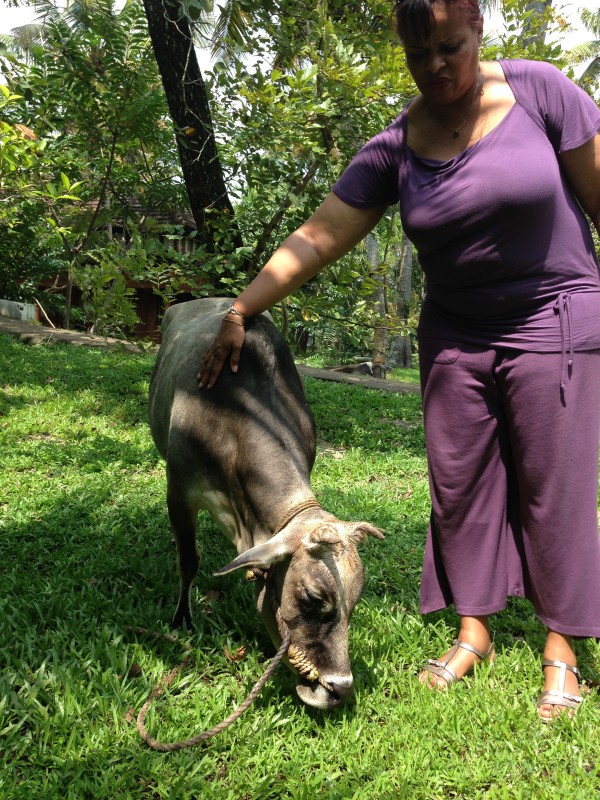 3) India, which I started calling 'the United States of India', is comprised of 29 states. Hindi and English are the two official languages, but this country has 122 major languages.
That explains why whenever I was asking how to say 'hello' or thank you', I would get several answers at once. And it was also surprising to see our coordinator, Anand, speaking English to people in some of the cities. Now I know why.
Even on a rupee note, you'll find 15 languages listed.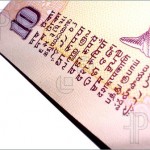 Of course there is much more to rave about! India has a myriad of surprises, beauty, strangeness, familiarity…everything!
It was a wonderful 2-week journey.
I think that my task for a next possible trip is to be more knowledgable about this 1000-year phenomenon which is traditional- and classical- Indian music. It's very complex and multi-layered but as the Chinese say, "One begins a thousand-mile journey with first…one step".
Namaste!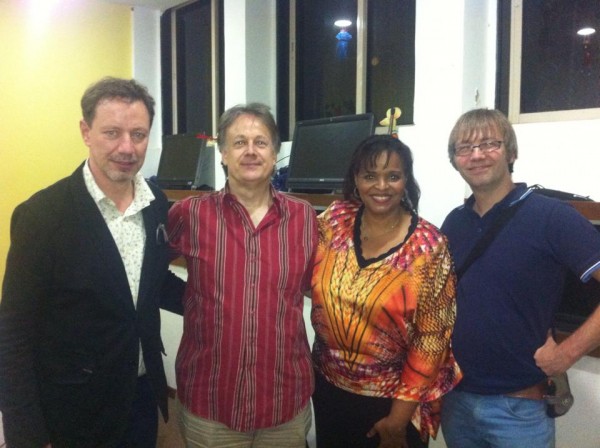 Note: I would like to extend my most heartfelt gratitude to Anand Singh Bawa, the Dutch embassy, and the Dutch government for their support of our quest to bring musical enrichment to every corner of the planet. We are blessed!