In mid-March 2016, my husband Mark Zandveld and I were invited to perform – and give a workshop – in the Semilla Jazz Festival on La Palma, Canary Islands. This was coordinated for us  by the Tenerifian guitarist, Miguel Manescau (founder of the Mousike Music School and Foundation together with Beatriz Alonso, his partner).
Mark, on bass, was to form part of the Miguel Manescau quartet, which accompanied me. We had done the same a year ago at the jazz in La Laguna, Tenerife.
(See my blog about it: http://deborahcarter.com/?p=2604)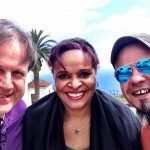 The Semilla Jazz Festival was in its third year, having been founded by the entrepeneur Alberto de Paz and his soul partner, Maria Jose Manso. Alberto explained to us how they built it up from the roots, and though it was still a small festival there is evidence of its potential , with more interested sponsors each time plus a very enthusiastic public for jazz, foreign and local alike. That's a potent combination for positive growth of the Semilla festival with each passing year.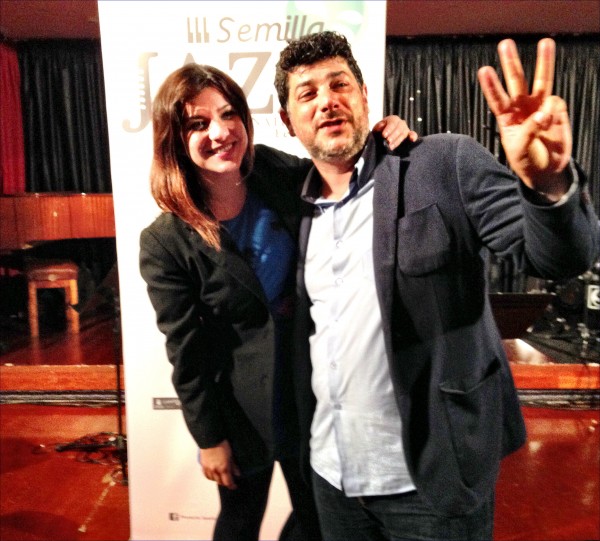 The funny thing about the island of La Palma is that it is an island that I never paid much attention to. Every time I heard the word 'Palma' in relation to Spain, I thought it was either in reference 'Las Palmas' , the capital of La Gran Canaria or 'Palma de Mallorca'. As well, I could never remember that there are seven Canary Islands, and if I only had been to two and could actually only name 6, then there was definitely one that I was needing to learn more about.
La Palma is so delightful that its other name is 'La Isla Bonita' (the beautiful island) which they also claim is inspiration for that Top40 hit by Madonna of the same name. I believe it!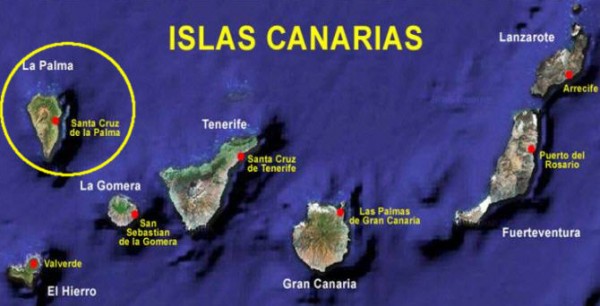 I would like to mention that Alberto and Maria Jose – the founders of the festival – had also formed a Film Commission that does intense networking, bringing film producers – from Hollywood to Madrid – to the island to show them its unbelievable variety of landscape potential for usage as a film setting.
It's working well for them so far, and I won't divulge a title, but La Palma is already designated for a major film that will be coming out in a year or two. (Plus a couple of TV series episodes in-between.)
Anyway, we were curious about La Palma even before we got there and decided to book a couple of extra days ahead of our due date for the rehearsals, workshop, and performance. On our first full day there, a rental car was arranged for us and we took off to see the sights – basically covering the mid-point of this mountainous island and then heading south.
One of the first pueblos we stopped in was one where I really felt the need to take my picture in: El Paso. I was raised in Hawaii, but was actually born in El Paso, Texas, although we did move away from there when I was 7 months old.
I really got a kick out of being in another El Paso. Hence the photos…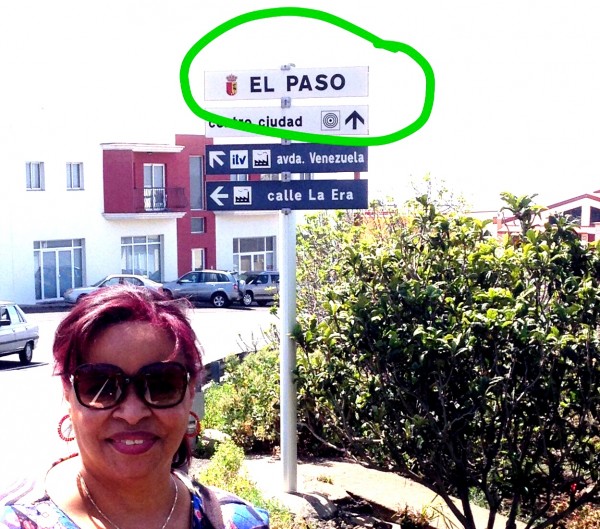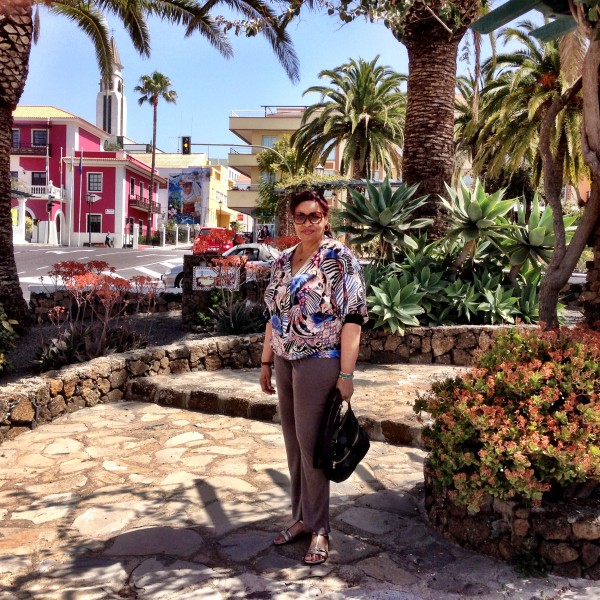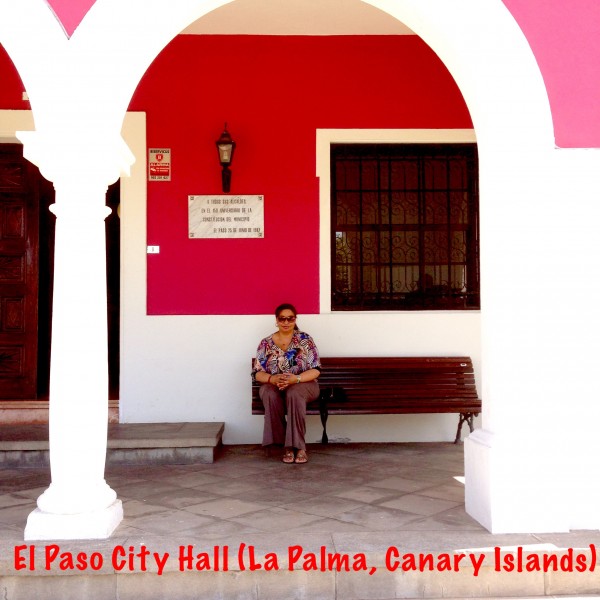 The next activity in that week was being taken around to various members of – la Asociacion de Empresarios de Breña Baja – the Business Association of Breña Baja (the municipality where the festival took place)- who would be potential sponsors of the future Semilla Jazz Festivals. It involved a lot of chatting, shaking hands, kissing, and getting lots of pictures taken by our guide.
I felt like a politician on the campaign trail! (Hey, fighting to keep the fire of jazz going DOES involve some campaigning anyway.)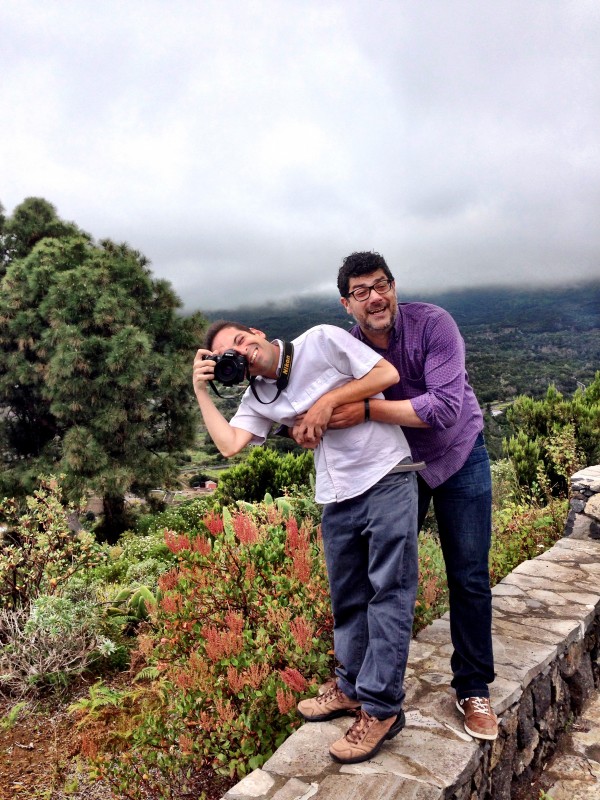 However, we met some really nice, interesting people and they were so generous and in later presenting me with a basket of some local goodies as well as a few other presents. What a treat!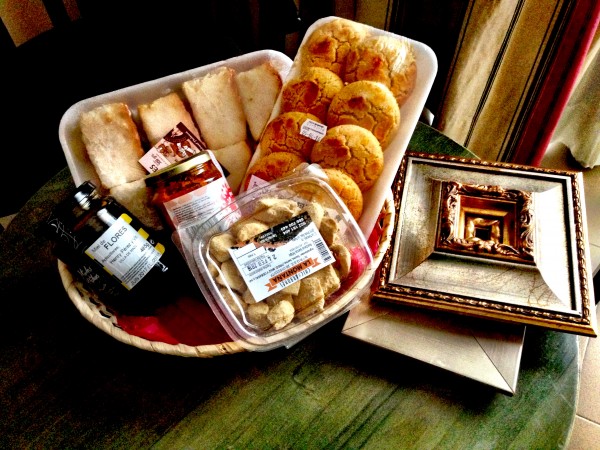 We finished off that portion of the day with a nice leisure lunch laid out for us by the charming owner of 'Restaurant La Mocarena'. It was one of the high points of the week – besides the music-making of course!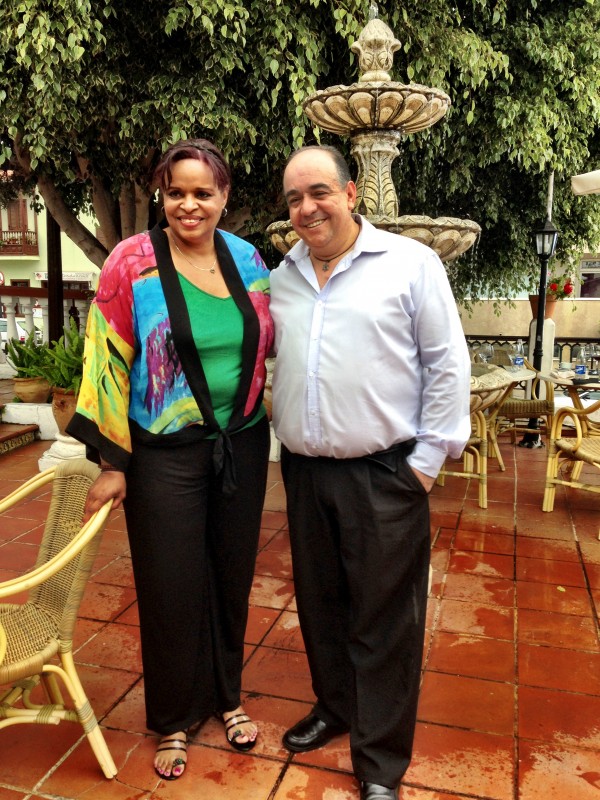 Mark was making sure his energy was being replenished! (Que dura es la vida!)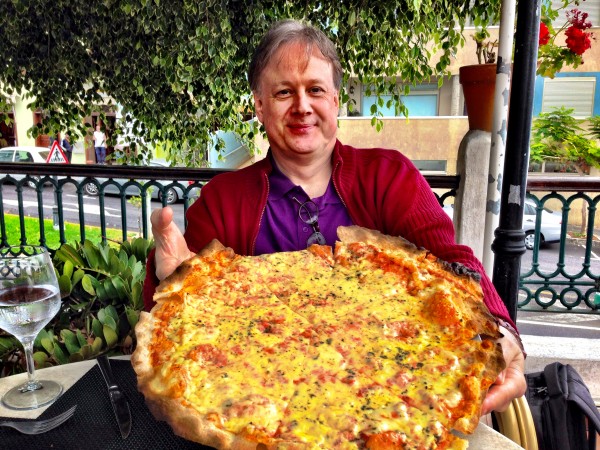 And below, the festival founder, Alberto de Paz (a real "people-first" kind of guy), who in that week always had a 1001 things to do. In spite of that, as you see below, he still could take a moment to chill, have a bite to eat, and hang out a bit. What great guy!
[Note: best Alberto de Paz quote heard that week, "The first 40 years of your childhood are the most difficult."  I couldn't agree more, ha ha!]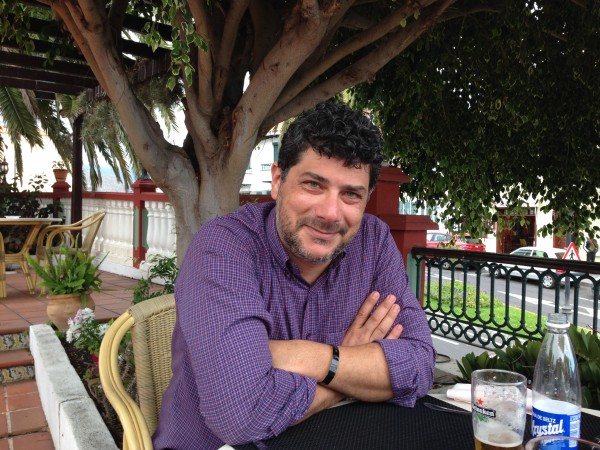 Things were moving along smoothly and after a rehearsal in the evening I transitioned easily to "work mode" in order to get up early the next day and give my workshop to an enthusiastic group of music lovers: "The Basics of Vocal Improvisation".
What was brilliant was that Alberto had it organized so that everything – the rehearsal, the workshop, and the concert were in the hotel – H10 Taburiente Playa, in los Cancajos. What a luxury!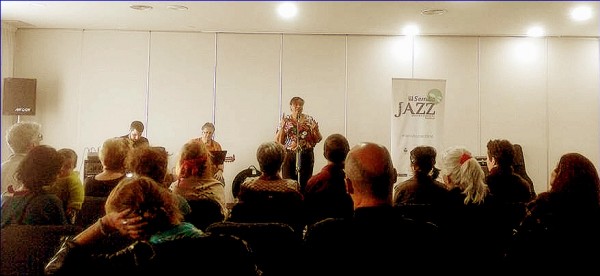 The other luxury, I'd like t mention was being able to sit and enjoy the other concerts on the program at the end of the day. One of my favourties by Yul Ballestros and his group with the extremely talented Mosies Sanchez on piano.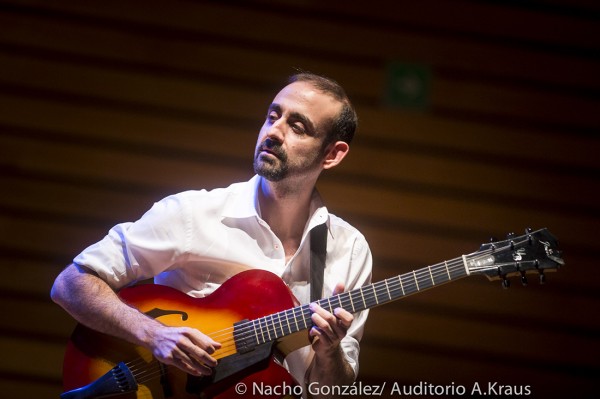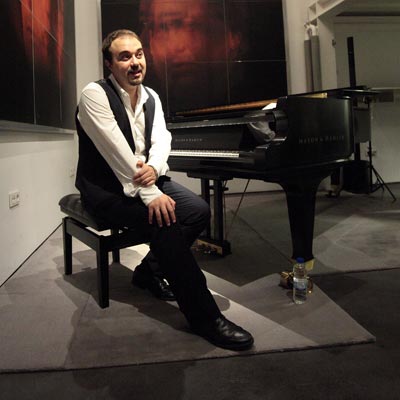 Our motors were REALLY revved by the time it came for us to give our concert.
And how lucky that it was on a Saturday! Cause if there's anything I like more than giving a concert, it's giving one on a Saturday night. That's a whole other energy altogether!
On that magical night, we had a full house of serious music lovers and the whole thing passed too quickly, but I still can remember everything about it.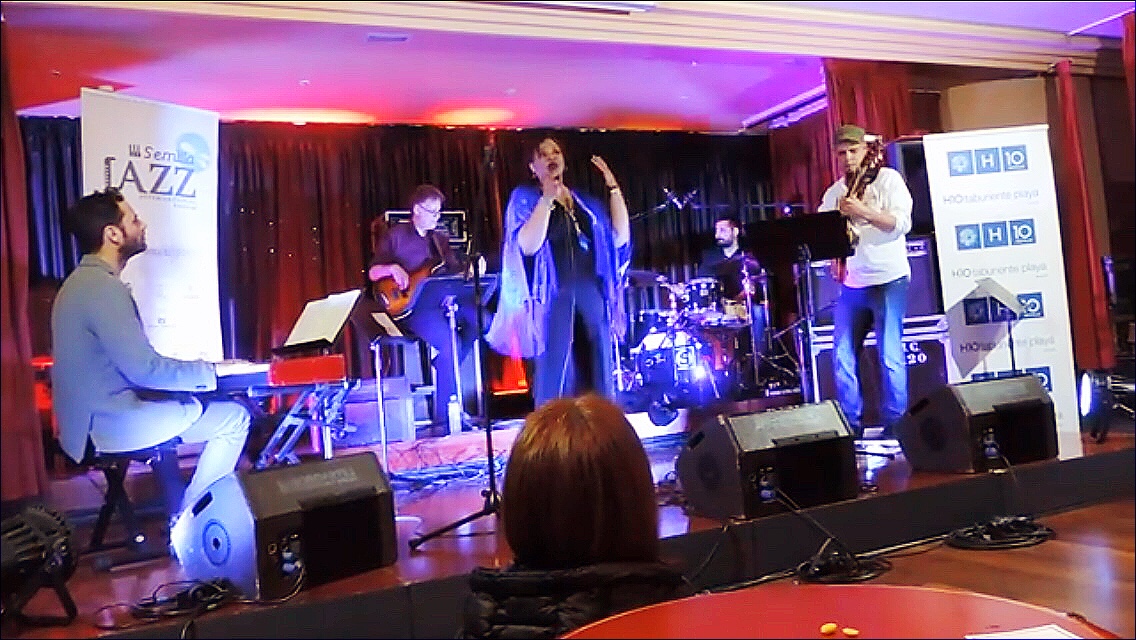 We managed to find a second after the concert to take a 'parting shot', before going out to greet and mingle with friends in the audience.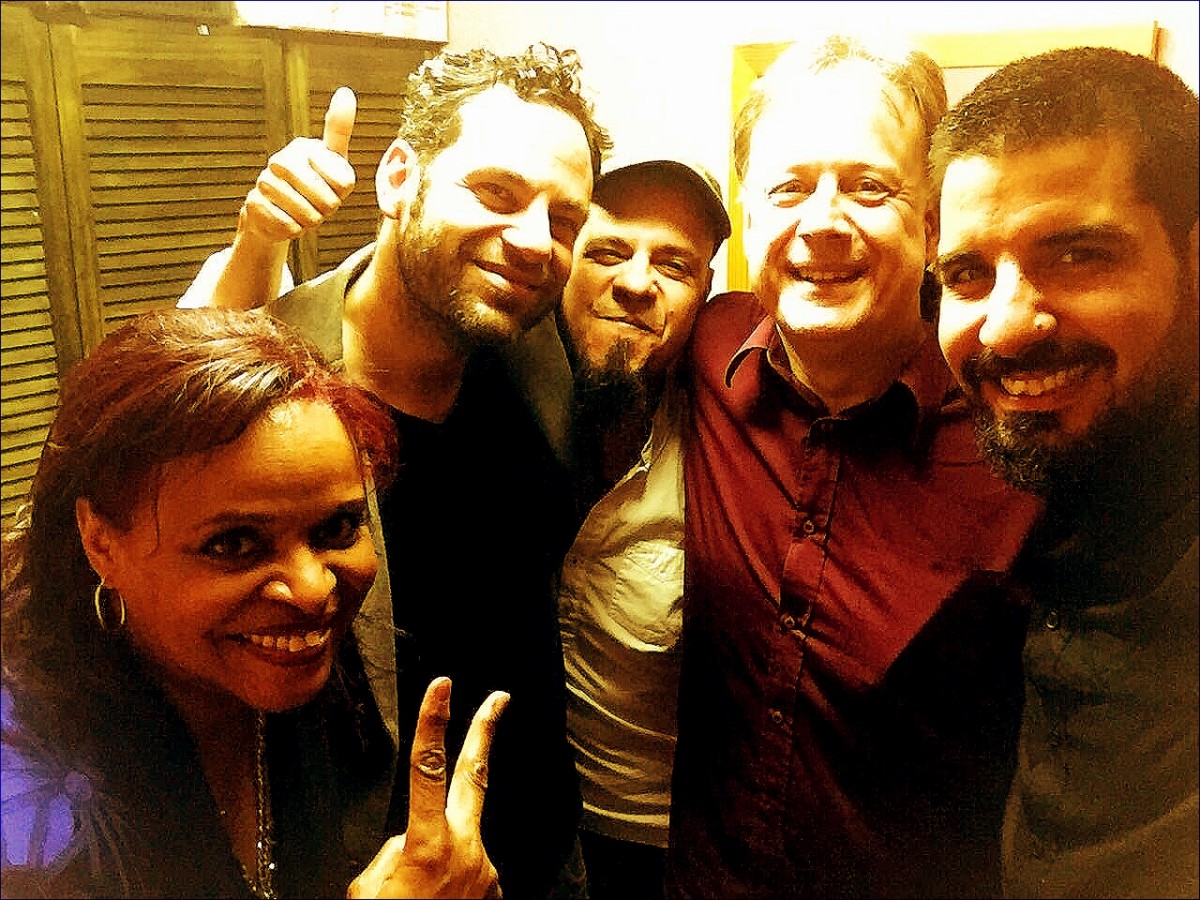 From left to right: me, Jose Alberto Medina Quintana – keyboards, Miguel Manescau – guitar, Mark Zandveld – electric guitar, and Akior Garcia – drums.
I'm so grateful to all of them for making it such a great night and especially to Miguel for making the initial contact for us to go to Palma in the first place.
Unforgettable!