My tour in Italy really marked the end of the summer for me, and I was preparing music and materials for a new fiscal/school year and packing to head off to my next destination: South Africa!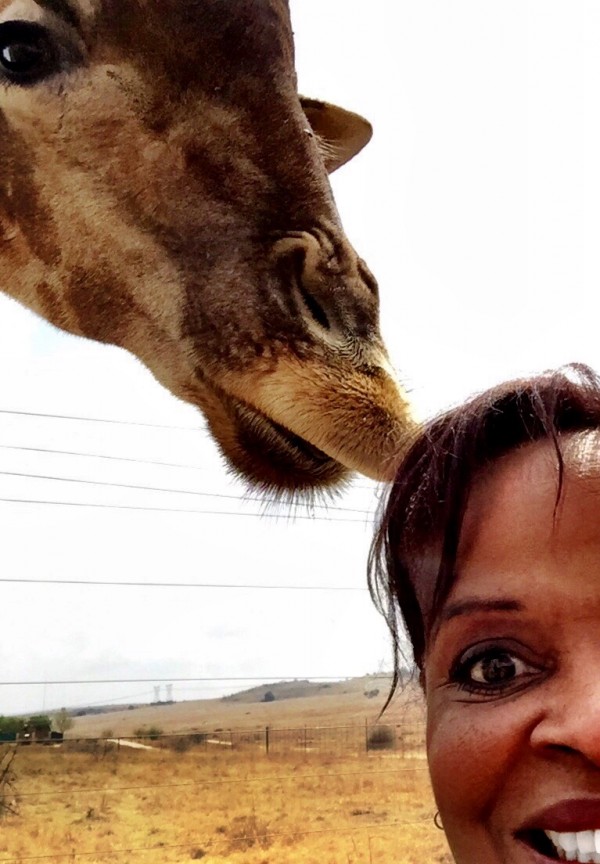 JOHANNESBURG, SOUTH AFRICA (September)
I was thrilled to be going to this beautiful and modern South African city. On the African continent I had never been further south than Tunisia and Algeria, and I was overdue to visit a new country.
I went there as a part of a 12-musician Dutch delegation with the official name of the trip being the 'South African Dutch Expedition'. This is one of many 'expedition' trips usually organised by Alexander Beets and sponsored by Jazz.nl, BUMA-STEMRA–amongst others–which allows for a cultural exchange between Dutch musicians and other countries. (On the South African side, Karen  Devroop, was doing a great job in coordinating all the activities.)
In the previous spring of 2016, a delegation of South African musicians also came to Holland to play. At the Amersfoort Jazz Festival I got to meet–and hear–the very talented songbird, Lindiwe Maxolo, who I later met again when when she was featured in the Joy of Jazz Festival in Johannesburg.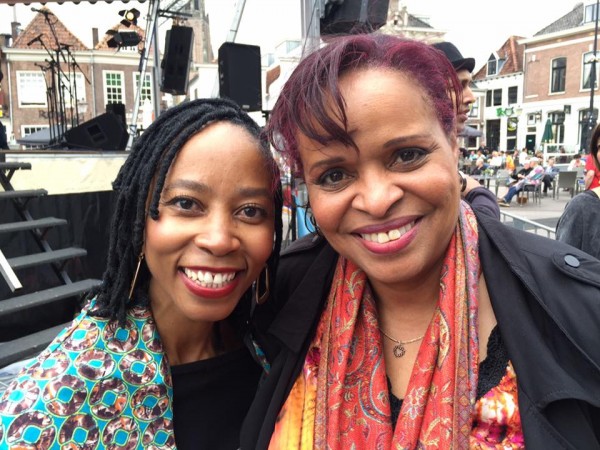 Each of us in the Dutch Jazz Expedition  were soloists with our own groups or projects, but we were conjoint as two specific groups: "New York Round Midnight" a theater ensemble I have been–and currently still am–touring with, and "The Dutch All-Stars" performing more rhythm-n-blues, contemporary styles.
Shown performing in picture below: Ellister van der Molen on trumpet, and Rolf Delfos on sax.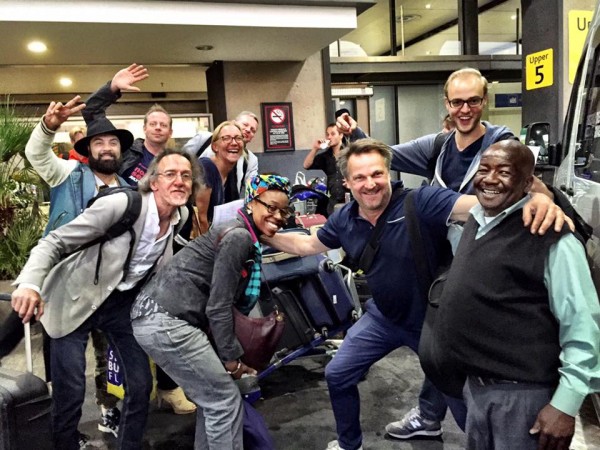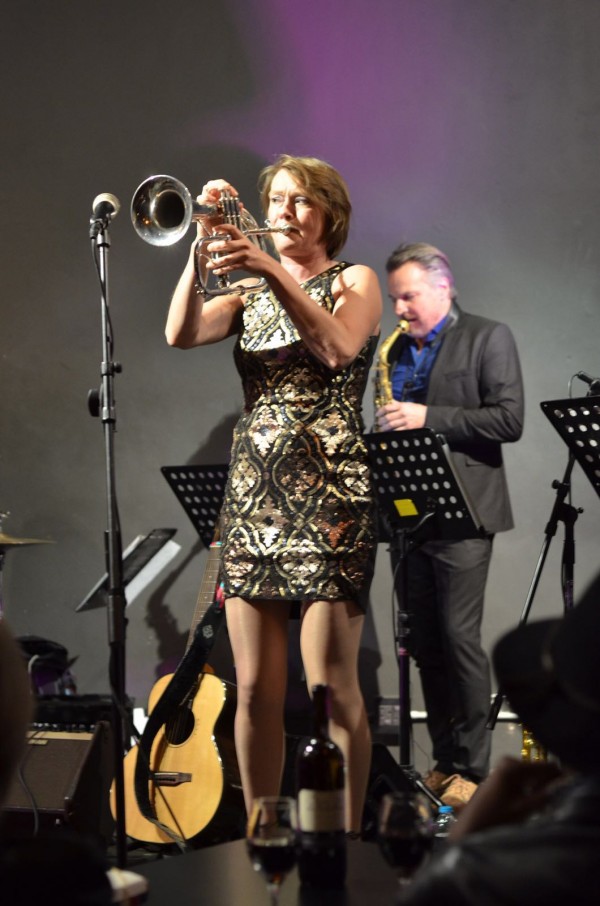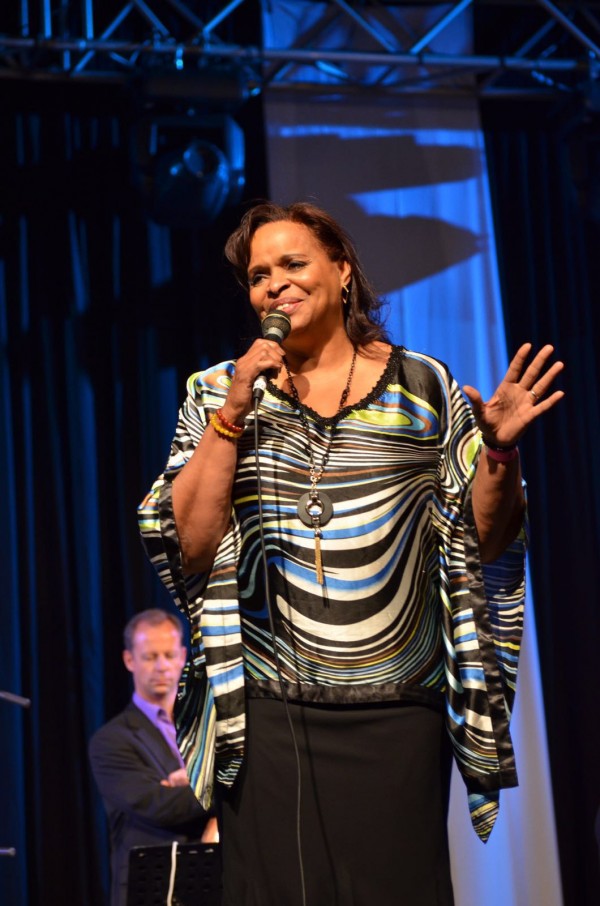 We had a magnificent night performing in the Joy of Jazz festival, cancelled our scheduled perfomance in the Eldos Festival, due to bad weather, but we had a super jam session at the historic African Freedom Station with South African Musicians.
The African Freedom Station has some SERIOUSLY good pizzas. Kudos go to the 'pizza guy', Thokozani. He's not beating a drum in this photo; he's preparing pizza dough for the oven.Exquisiteness!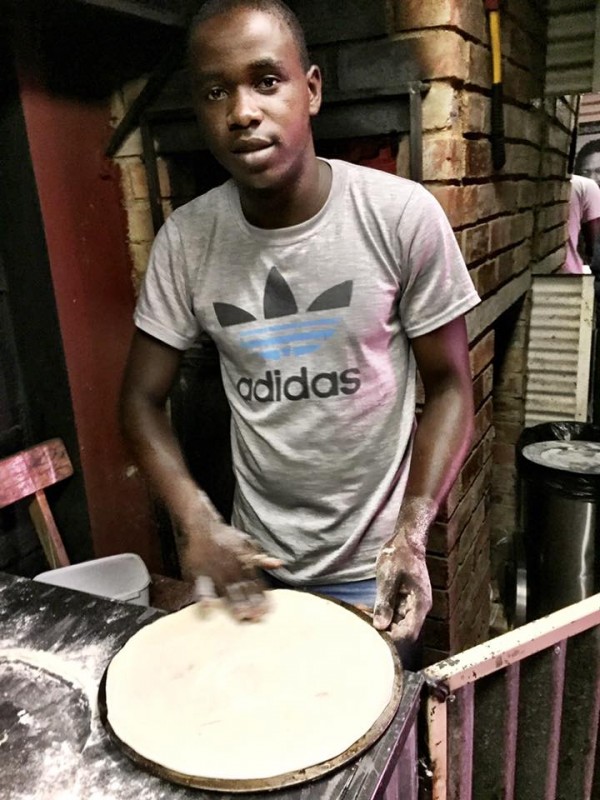 Our New York Round Midnight program features a sort of timeline of jazz history, so we played it for the music students at the University of Cape Town, and a workshop was given by the "Dutch All-Stars" in another branch of the university. With all that, together with tourism, there was enough to do every single day of our 10-day visit.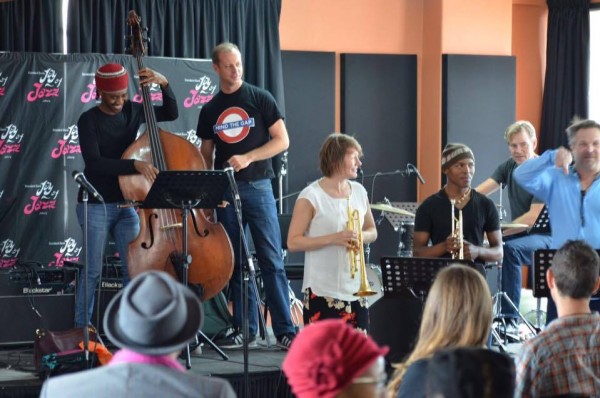 Visiting the land of Mandela was such an honour and an experience. It was important for me to visit the Nelson Mandela museum and other memorials dedicated to him and his brave associates. I have a better understanding of how the fight for freedom began as a small seed, festering in such dire circumstances for the black and coloured South Africans, and how it is today. And it's not nearly over yet!
Mandela is now also MY hero.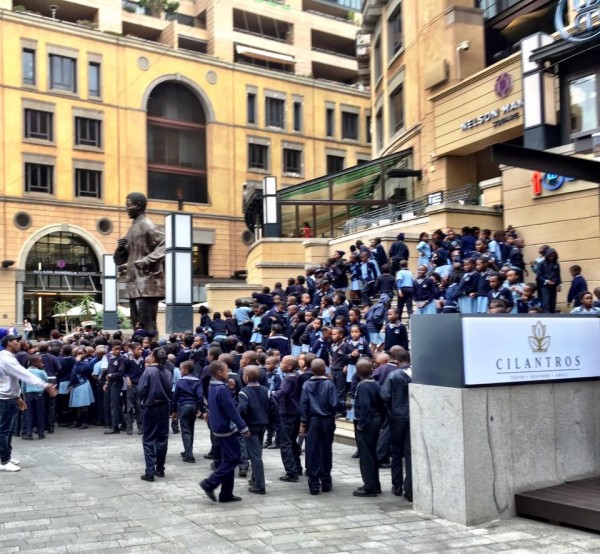 Upon returning I was enjoying performing with the Johan Climent trio in the Music Village in Brussels, Belgium and there was also a fabulous weekend at the Bogui Jazzclub in Madrid, Spain with the Mariano Diaz trio.
Then I was off to a destination further east with my own wonderful trio…to Baku Azerbaijan!
BAKU, AZERBAIJAN (October)
I was visiting Baku for the 3rd time, since 2001. I calculated that the last time I had been there was actually in 2005 for concerts and a workshop with my husband, Mark Zandveld. (Since then, around 2013, I had also had two vocal students who had gotten a grant to travel to Amsterdam for intense classes with me, so the ties were never broken.)
Both Mark and I completely were taken aback by the multitude of changes that the city had made in the heyday of their natural gas sales. It had completely reinvented itself, turning into a spectacular urban wonder which was managing to preserve the best antiquities of the city to combine them with new architectural structures.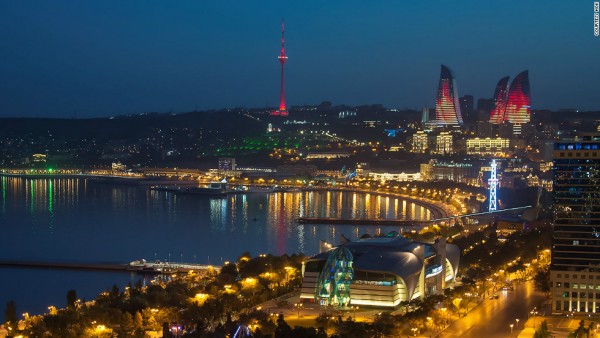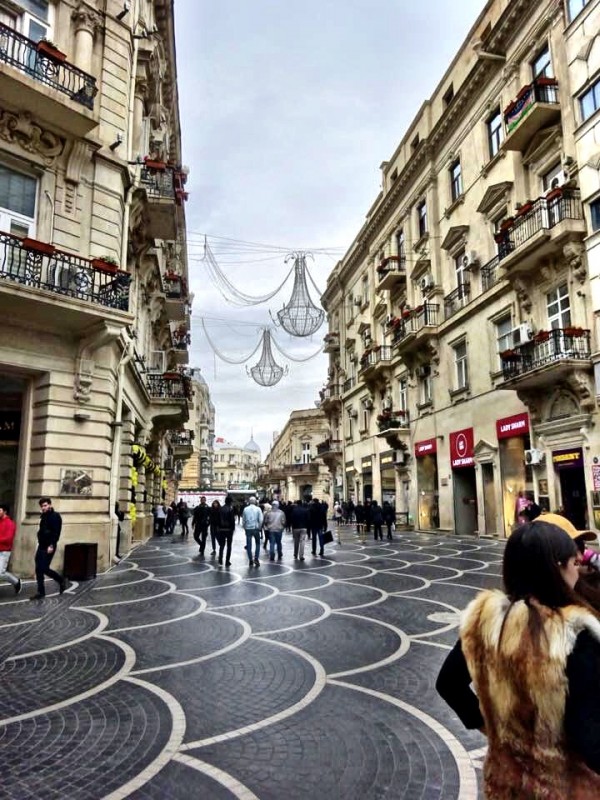 And throughout the city, going from one end to the other, were purple London-cabs!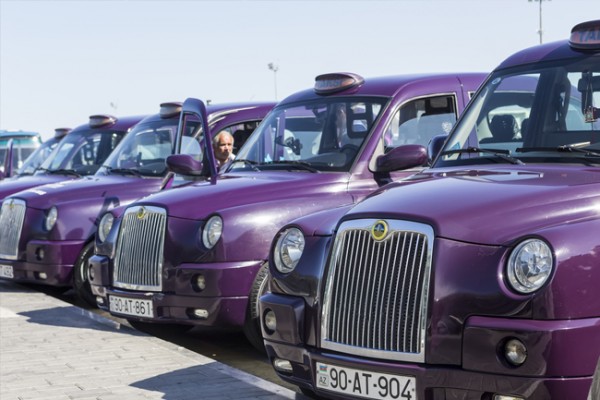 Baku's Jazz Festival was organised by one of it's most prominent members in the Baku Jazz Community, saxophone talent Rain Sultanov. for this 2016 he brought a multitude of groups in to come and perform, give workshops, and oversee the jazz competition taking place in that same week.
Like I said, I had the honor of being able to go with my own trio consisting of Leo Bouwmeester on piano, Mark Zandveld (husband) on bass, and Gunnar Graafmans on the drums. We were doing a program based on one of my latest albums, 'Diggin' the Duke' a modern tribute to Duke Ellington. We also gave a masterclass earlier on the same day.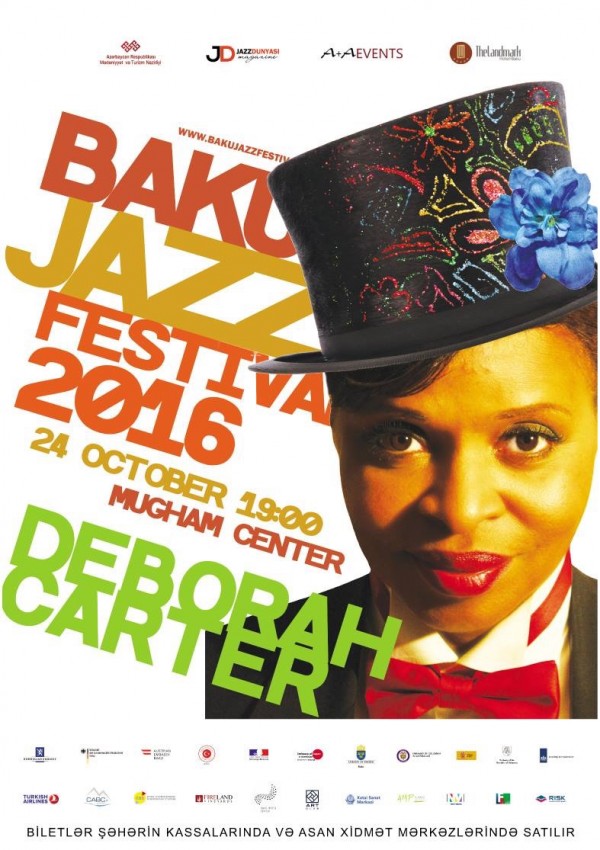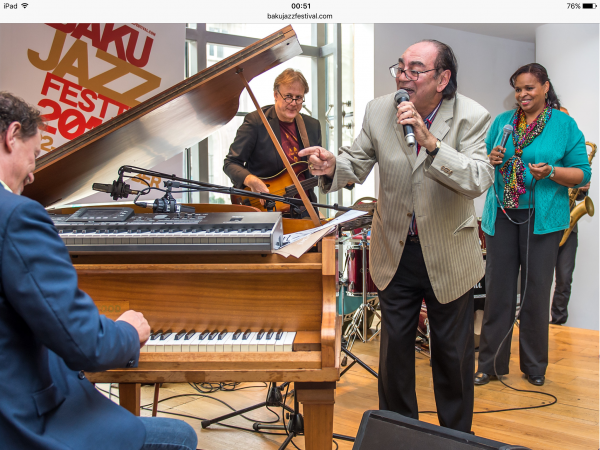 The thing I loved best about our short week there was the jam session that Rain organised nightly for the musicians to have an opportunity to play together, and to hang together–in the VIP session.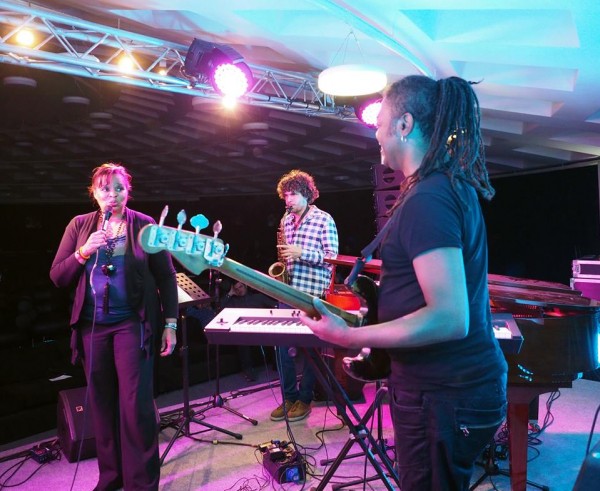 In the photo, I'm jamming with Antonio Lizana (sax) and Linley Marthe (bass).

That week, I ran into quite a few acquaintances I had met on other trips to Baku, I got to hang with some musicians I knew from Spain, and there was even a photo exposition of our friend, the globe-trotting Ukranian photographer, Arkady Mitnik, who seems to show up at the important venues in Amsterdam as well. (I swear, he must have several clones running around!)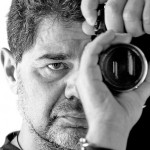 It was very fortunate for us that the Dutch embassy helped sponsor us for this trip and it was a pleasure meeting them–as well as diplomats from the other embassies–during our performance at their reception.
HOLLAND– Ellington's Sacred Concerts:
In November, I was working on a very special project with the Frits Bayens Jazz Orchestra and the Fonty's Jazz Choir: it was Duke Ellington's 'Sacred Concert'. What a masterpiece! This version was an arrangement by Hybye and Pedersen, written for choir and a semi-classical mezzo-soprano (um…me!?).
The Fonty's Jazz Choir of the Tilburg Conservatory was most impressive and it was such a pleasure working with them.
There will be more of that in 2017 and 2018, but next time it will be with the Brabants Jazz Orchestra, and doing the arrangements of Örjan Fahlström from Sweden.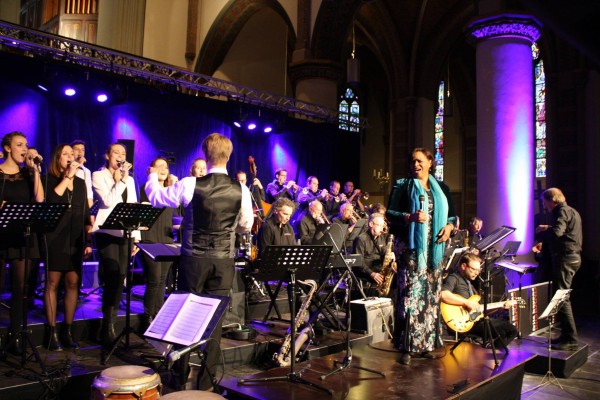 And then, it was time to fly out of my lovely home-nest once more. This time to …Israel!
ISRAEL (December)
As it had occurred many a time, I was not only just invited to come and sing, but there was always a specific program to study and do. (I say, I do more studying now, than when I was in school!)
This program was the jazz version of the Gershwin's folk opera, Porgy and Bess, arranged by Mamelo Gaitanopolus and to be performed by his sextet.
These concerts were part of the "Hot Jazz" concert series organized throughout the year by the very dedicated Ziv and Mor Ben of 'Creative Music Management'.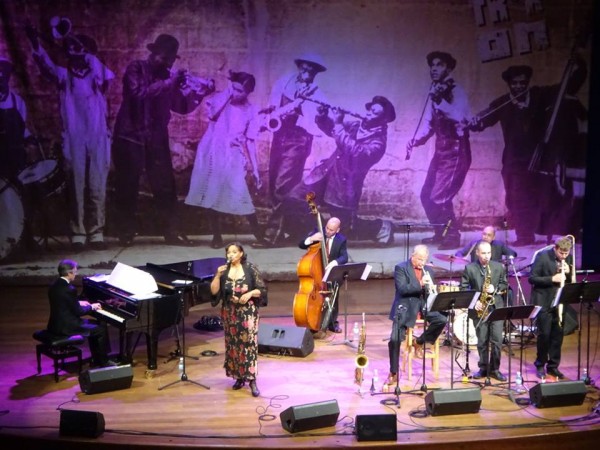 We gave 8 concerts in Tel Aviv and surrounding area, Haifa, and Jerusalem. Of those eight concerts, two of them were a special version for children. In those I got to work with the mega-artist, David Sebba, and the cutest little puppet called 'Jazzica', a diva in her own right. 🙂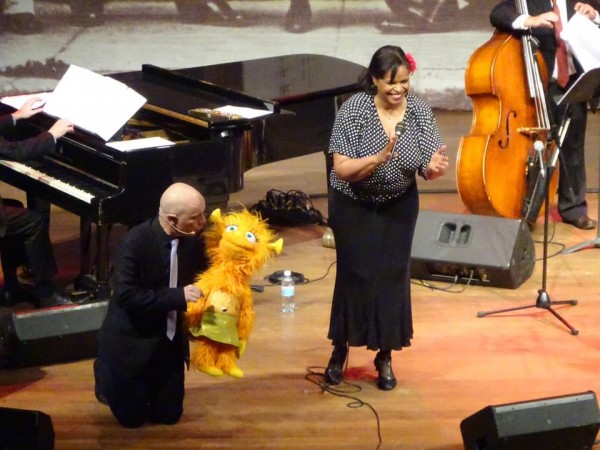 It was a marvellous experience, one I hope to repeat. I learn so much about people in general when I put my stereotypes aside and just travel to unknown places to find out how the people are there, how they live, and what they think. I now know for sure that we all have one thing in common: we want things to be peaceful and the waters to be calm so that we all can sit on our sofas at the end of the day and just 'chill'. That's the most basic human desire.
The rest has to be worked out step-by-step.
Me, as a working and teaching musician, I will always consider myself part of the solution and not part of the problem.
#Blessed!