Some of my most fun and surprising adventures occur when I'm invited by–and traveling with– pianist/composer extraordinaire, Mike Del Ferro. This time we visited Sharjah, of the United Arab Emirates, and the Swedish Lapland.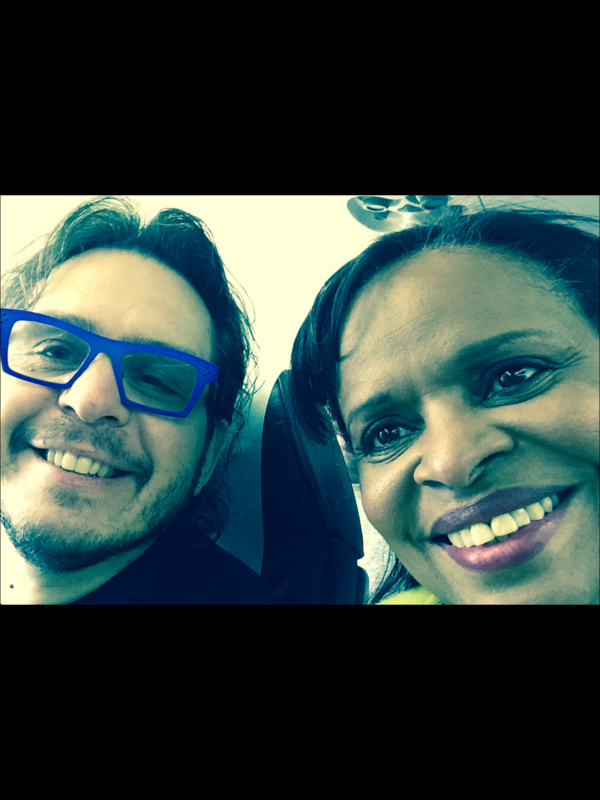 UAE
Mike and and I traveled to the UAE as a quartet, together with two top musicians: bassist, Theo de Jong from the Netherlands and drummer, Bruno Castellucci from Belgium. We were set to perform at the Sharjah World Music Festival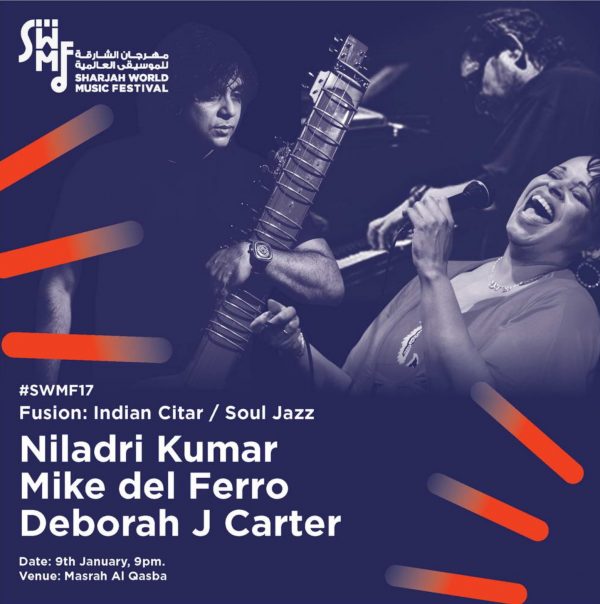 In Sharjah we joined forces with two stellar musicians from India – Niladri Kumar on sitar and Vijay Ghate on tablas.  That also meant that we sort of had a basic idea of the repertoire, but the specifics were not to be determined until our rehearsal and sound check together. That collaboration, with the combination of instruments (East meets West) made it a very exciting evening.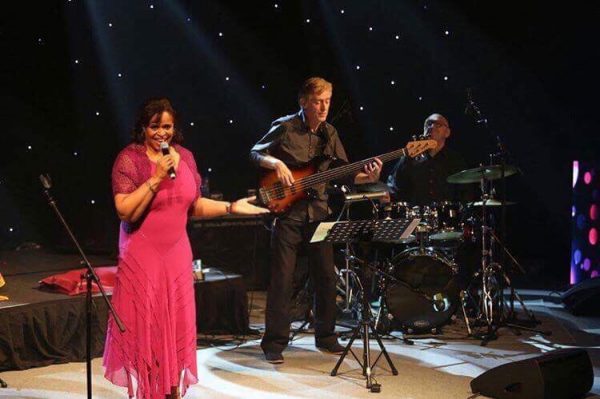 As it turned out, the European trio accompanied and improvised on Niladri's compostions  and the sitar and tabla improvised on our repertoire. It was tremendous fun–onstage and backstage!
The event took place at that beautiful Masrah Al Qasbah  and we had a pretty good turnout of curious, but enthusiastic, music lovers. (Let's face it, none of us what was going to be happening, so we were all on our toes.)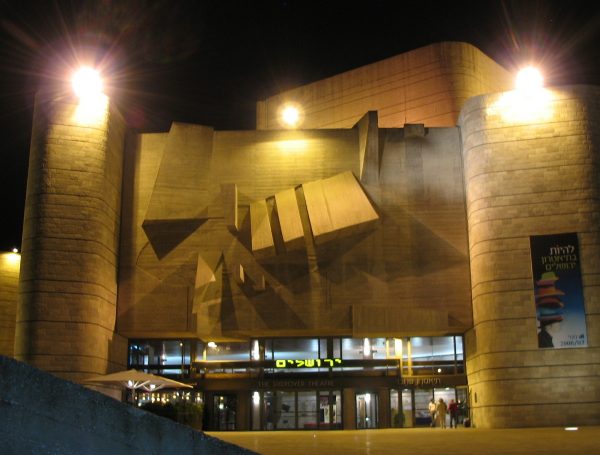 There was no time to really experience Sharjah as a tourist in our short two-day stay, but its location, on the Persian Gulf, made it a wonderfully warm and sunny place to be escaping to from Amsterdam's gray and rainy January weather.
The picture below is what I saw when I opened the curtains of my hotel room. (How do you say ""BAM!" in Arabic?)

SWEDEN
Shortly thereafter, I was back again in the airport with Del Ferro, heading off to the icy cold Swedish Lapland on the Arctic Circle.  We were there for seven days, and in my book this trip won the prize–hands down–as the one with the best balance between leisure, performing, and teaching.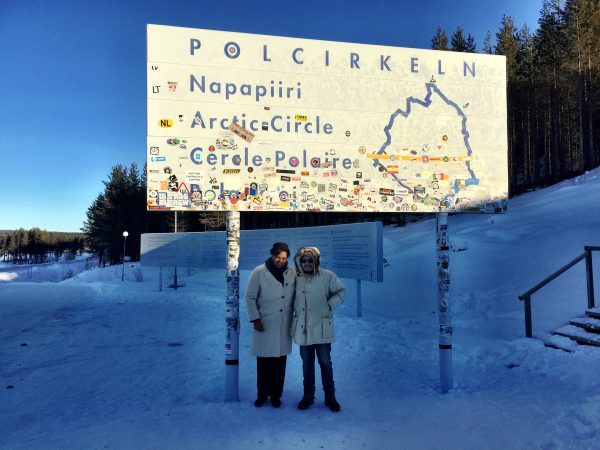 The first concert we had in this wintery paradise was in Kiruna, arriving on the very last day of their famous outdoor market, which is more than 400 years old.
We made a complete sextet, joining forces with the well-known Dan Johannson Quintet:
Hanz de Waard- double bass (top right)
Tommy  Lakso – guitar (bottom right)
Jerker Johansson – drums (bottom left)
Dan Johansson – trumpet (top left)
Mike Del Ferro – piano ( center)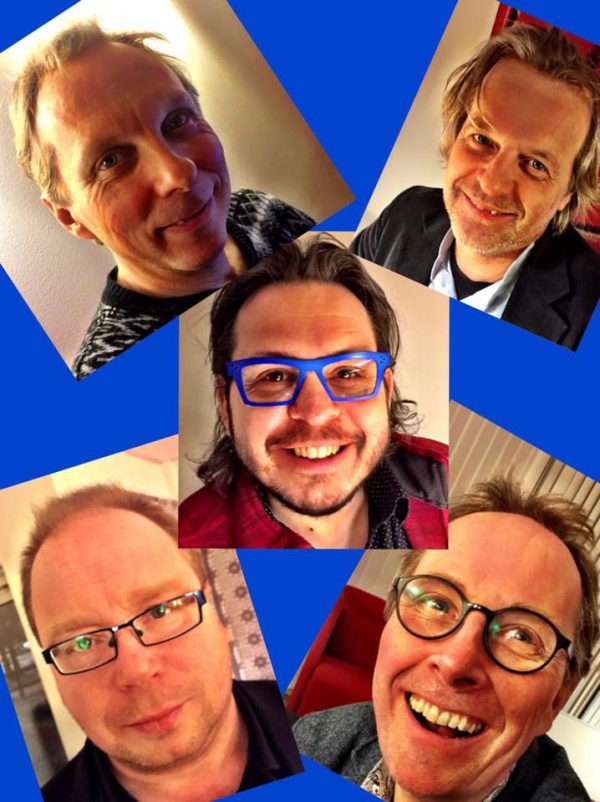 The host of our first lodging was Hanz, the bassist. He has a beautiful camping-site/animal-farm in Jokkmokk, located between two large frozen lakes. I loved his fat, happy animals!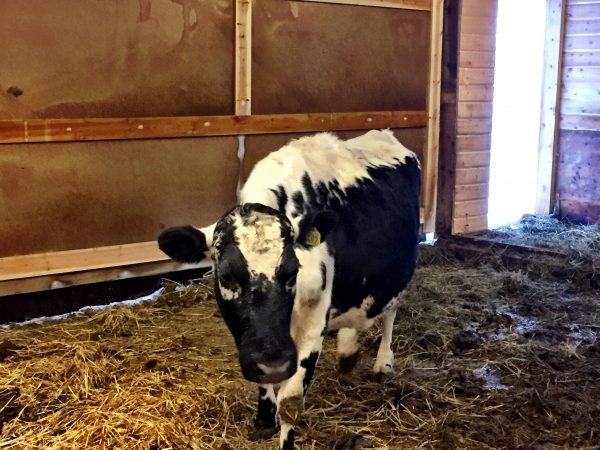 This cow earned its place on my blog. She's 18 years old and has given Hans more than 18,000 liters of milk.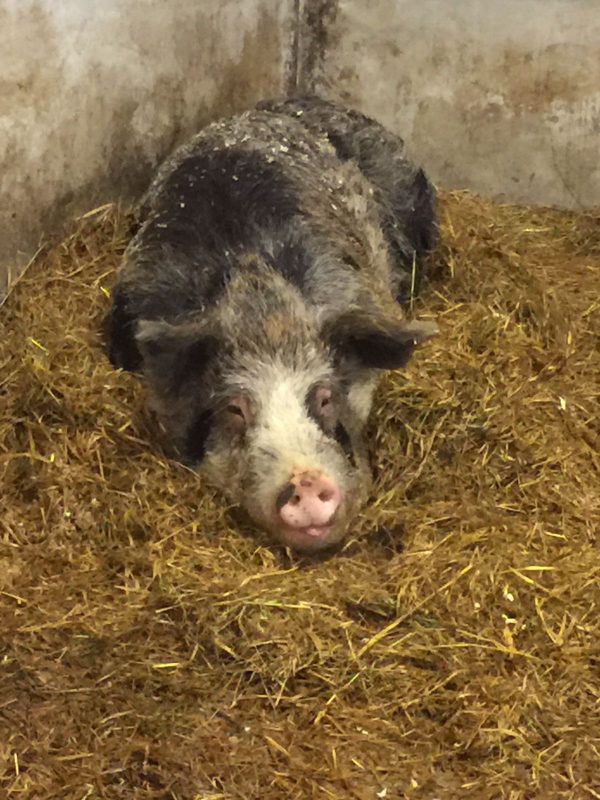 And who knew how much pigs love a good back-scratching?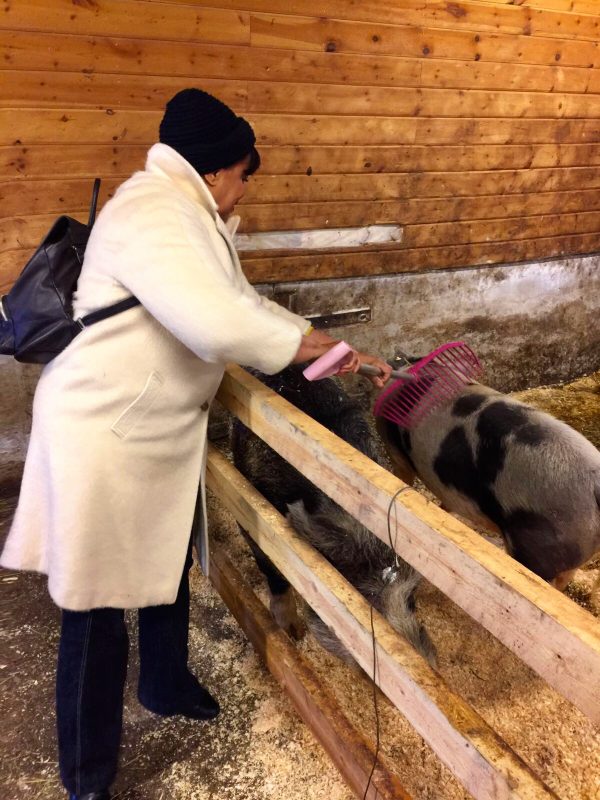 Mike and I were able to enjoy one of his self-built, comfy cabins for a few days. Hanz is very much an outdoors man, and he was more than happy to take us around to enjoy the beautiful natural sites of the area.
Below is a photo of  me, on one of our days out, kick-sledding on the frozen part of the Baltic Sea. I didn't last too long. It was exhausting! (They insisted that I borrow one of their real snow boots. They were not impressed with my 'city garb'.)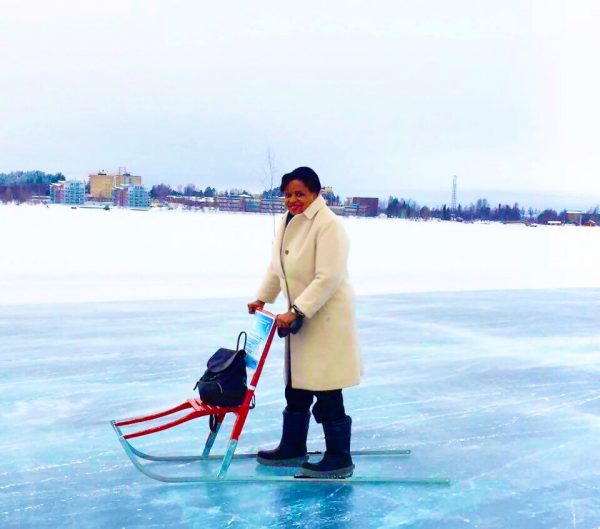 As opposed to the weather in the UAE, which was around 25C degrees or more, in the Swedish Lapland it got down to -26. They told us  was still warmer than than the expected -40 in February for that are. I had brought my warmest clothes and just barely managed not to freeze to death.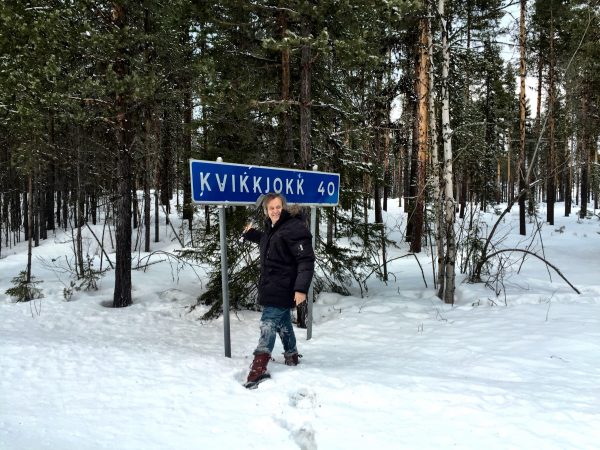 The best outing was the short walk to a creek in Kwikkjokk. When we got there, Hans mentioned that we'd also have a bite, which I took to mean that we'd either find a nearby bar\restaurant or get sandwiches from a gas station.
No, no, no! From the back of his car, he produced sausage and Swedish flatbread, and wood. He proceeded to make a hole in the snow, build a fire and let us toast our lunch on it, while he made coffee from melted snow. It was like watching a live show for the Discovery Channel.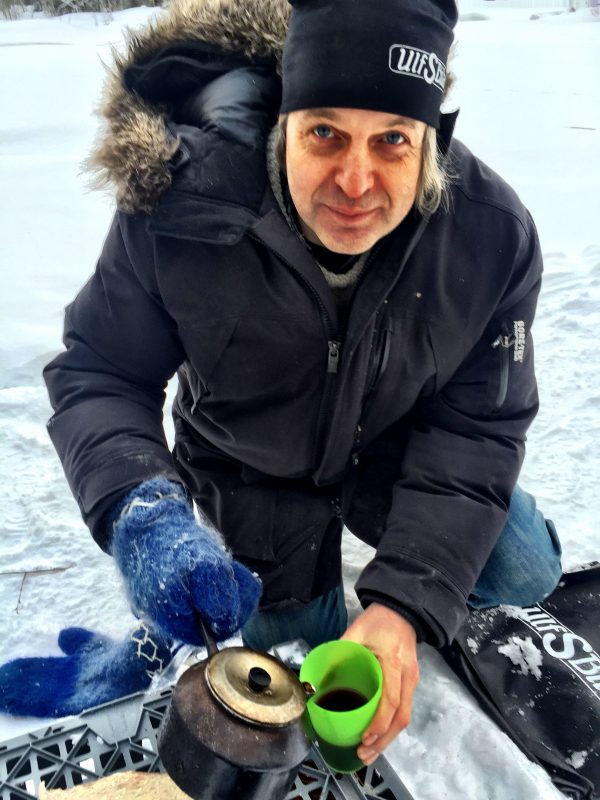 In the Swedish Lapland there really are reindeer everywhere! Some are wild, and some are part of established herds, owned by members of the Sami tribe. Unfortunately there is a contraversy because of the salt that the government uses to distribute on the roads to lessen the slipperiness of their icy surfaces. Elks come out on the roads in droves to lick the ice and the consequences, where animal meets fast motor cars, can be fatal.
They are beautiful animals!
At midweek guitarist, Tommy Lakso and his wife welcomed us into their beautiful, comfy home in Piteå.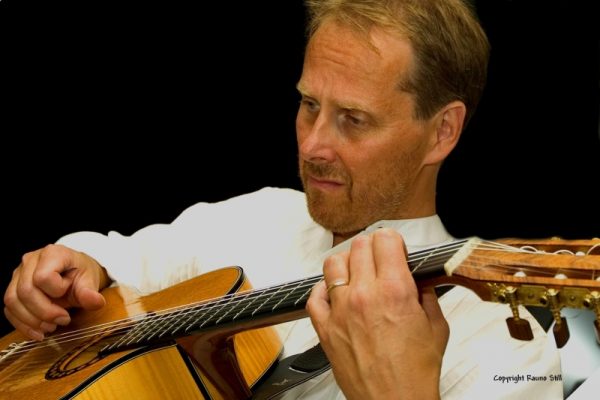 By that time, we were scheduled to do some teacher's work.
We had an intense day of giving about a half-dozen masterclasses at a high school, a prep school, and a conservatory where we enjoyed working with some very talented, fresh-faced, young jazz musicians. For me it was also a kick to just be at Swedish Lapland schools. That is a kind of 'tourism' that you can't buy.
We finished off our week with a concert at the Studio Acusticum, which is part of the music conservatory in Piteå. We had a full house with serious jazz lovers, and a fabulous ending to an unforgettable week.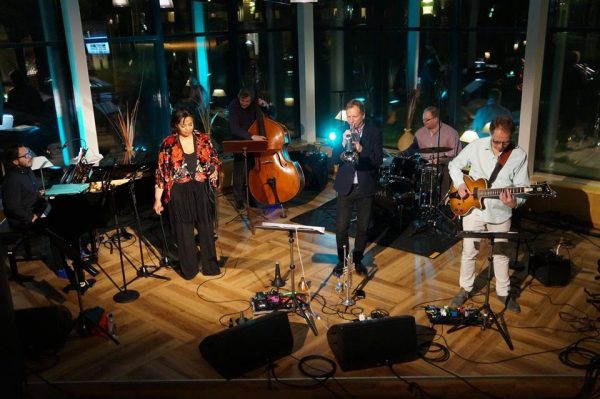 And hey, I even learned to appreciate and enjoy snow, especially when there's lot's of it. Gazing at a snowy landscape can be quite meditative. And the way snow absorbs and dampers sound (there's a lot of air packed between the snowflakes) makes it quieter in the surroundings, especially in wooded areas.
This would be the ideal hideout for me, if I were needing recovery from an overdose of stress.  I'm going to make note of that.
Then…ITALY!
I cannot think of a better place I'd want to be in springtime, than in Italia Bella. This culturally-rich country has a special place in my heart though I'm only just beginning to understand its people, language, cuisine, etc. I find it so fascinating!
I traveled to Italy on my own for a 4-city tour, joining up with the trio of Daniele Gorgone. We played in Empoli, Andria, Salerno, Roma, and Formia.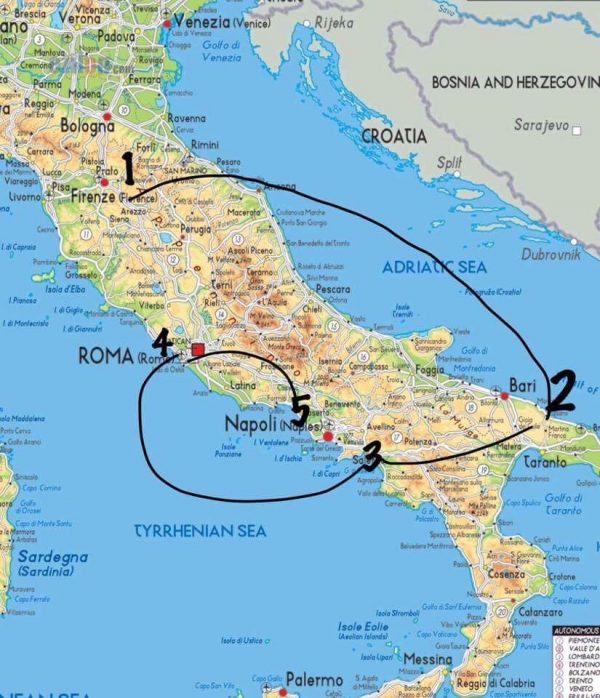 The venues ranged from jazz clubs to 'jazz weekends' to festivals.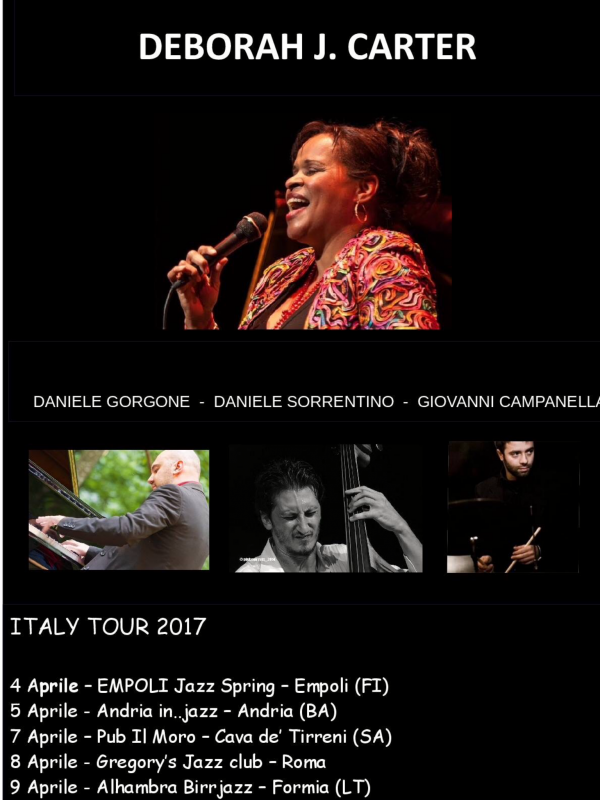 On this third tour of mine with Daniele, everything was well organized,  considering we had to be all over the place. As well, traveling from one region of Italy to another gives me a better understanding of how the various provinces see themselves quite different from the others.
Giovanni, Daniele, and Daniele are the ideal travel companions: very charming, kind,  funny and, in a typically Italian way…total foodies!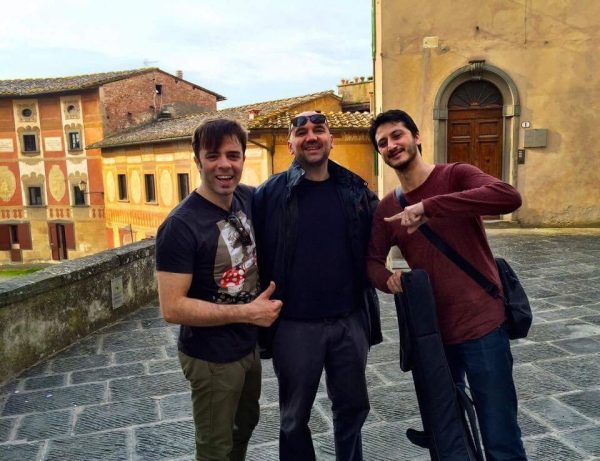 So the trip was not just musically and culturally enlightening, but we had some amazing meals and we engaged in wonderful conversations about Italian cuisine. I went home with new ideas and recipes.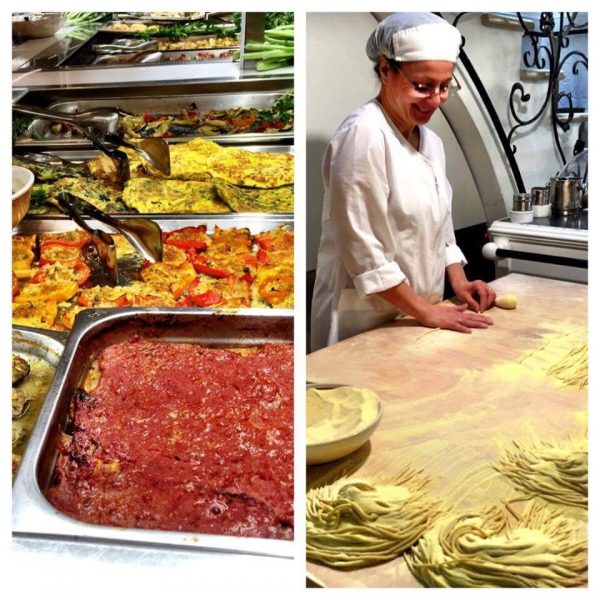 Our concerts were well attended and received. With this year being the 100th birthday of Ella Fitzgerald, I made sure to include some of my favourites of hers to for a mini Ella tribute. Any excuse is a good one to shed light on the genius of the First Lady of Jazz!
We'll be at it again in July 2017. By then I hope to return with more Italian phrases and vovabulary under my belt.
Speriamo che tutto vada per il meglio!
(Translation: Let's hope for the best.)