2017 turned out to be another exciting year indeed, with wonderful surprises, experiences and new things to do and learn!
I made 3 last tours in the Fall/Winter of this year and each one was unique in its own (as always.)
EAST WEST EUROPEAN JAZZ ORCHESTRA (Czech Republic and Germany)
In October I was fortunate to be invited to come and perform an Ella Fitzgerald Tribute with the East West European Big Band under the direction of saxophonist Uwe Plath.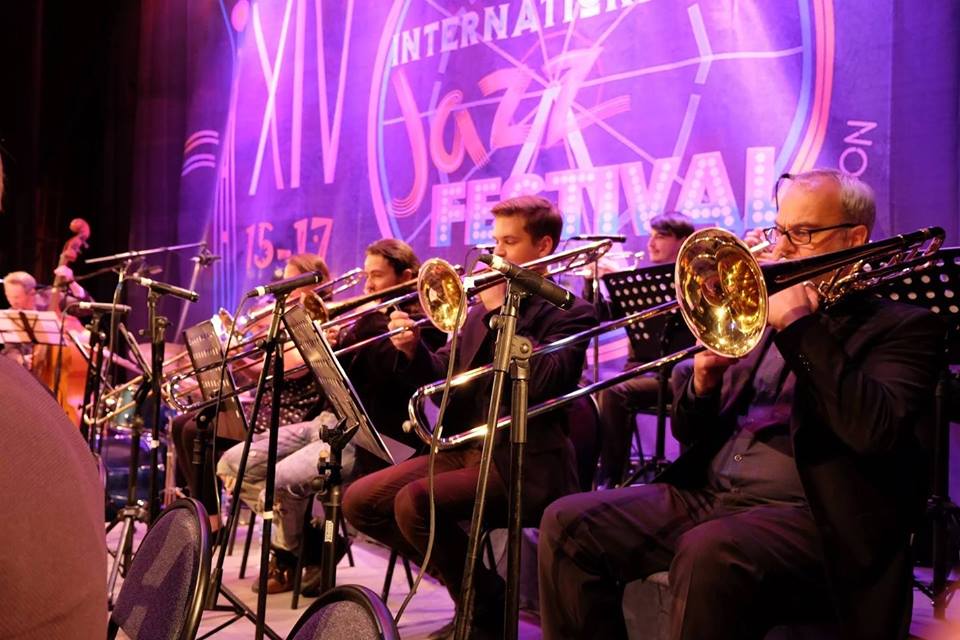 The band members came from many parts of Europe and we played in the Jazz Fest Karlovy and the Pilsner Theater in the Czech Republic as well as the Domicil Club in Dortmund. It lasted for 3 days and everything was played — from Ella Fitzgerald to Tania Maria (though with a bit more attention on Ella).
In the picture below, bandleader Uwe Plath is in the front bus seat on the left. His wonderful wife Freya – one of the tour managers – on the right.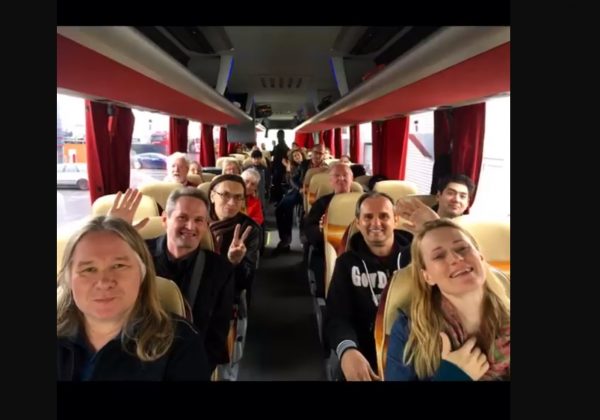 Sitting behind them, on both sides, is the marvellous rhythm section of this jazz orchestra, that was brought over from Rostov, Russia. They are the components of the 'New Centropezn Jazz Quartet': http://rostovjazzschool.ru/en/centropezn.html
Below, from left to right:  Aram Rustamyants – piano, Andrey Machnev – sax (and assistant director), Vitaliy Perov – electric/double bass, Gigoriy Deratsuev – drums
What a team!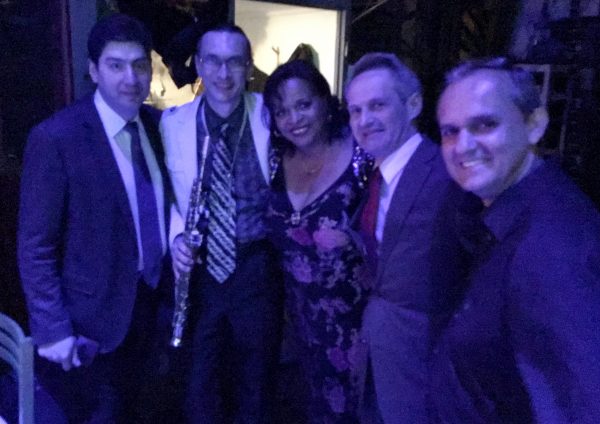 Besides myself, there were other fabulous soloists featured in the concerts: the Balinese, Dian Pratiwi, who is a regular vocalist with this band. Dian has a rich jazzy voice, with touches of soul, that now and then reminds me a young Nancy Wilson.
Representing the male species was singer-composer Norber Gottschalk from Germany, with an intriguing sound and style. Included in the bunch was also a 'young ingenue', the lovely Lina Knörr.
I was definitely in GOOOOOD company and we had a great time, on- and off-stage!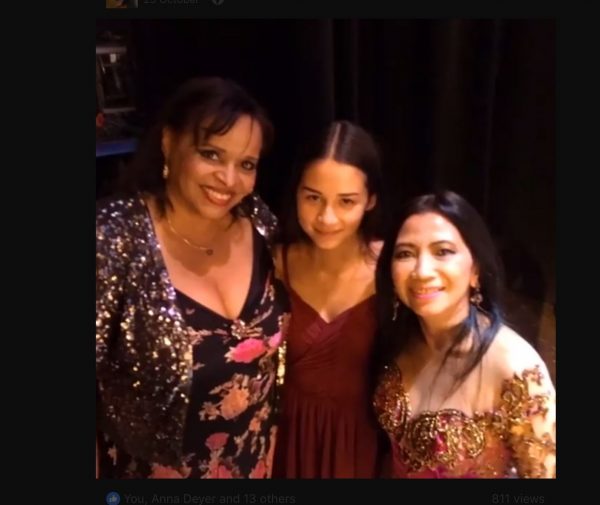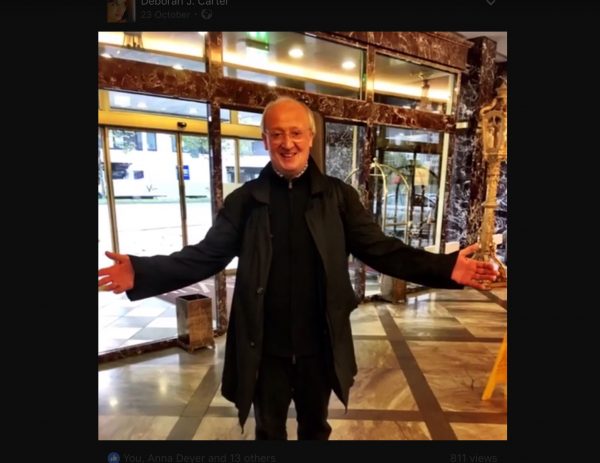 MINSK, BELARUS
And there was still more Ella activity to come! In mid-November, my husband and I flew to Minsk, Belarus for my guest appearance in another Ella Fitzgerald Tribute concert, and this time with the very dynamic Apple Tea Jazz Band.
This band of hard-working professionals is famous in Belarus and throughout my stay I could hear their great music piped in at every section of the Hilton Hotel.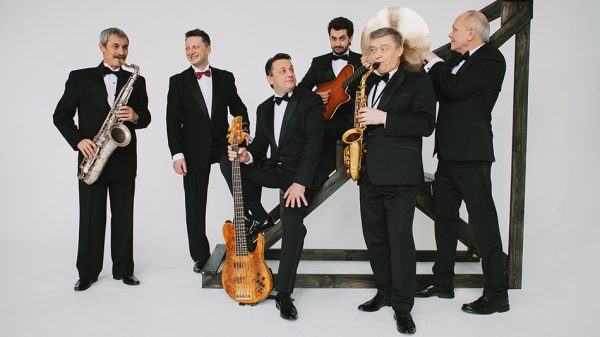 They did a wonderful job of learning the whole repertoire before I got there to rehearse them through it; fun guys to hang out with as well. For our efforts, we were rewarded with a sold-out theater of jazz enthusiasts.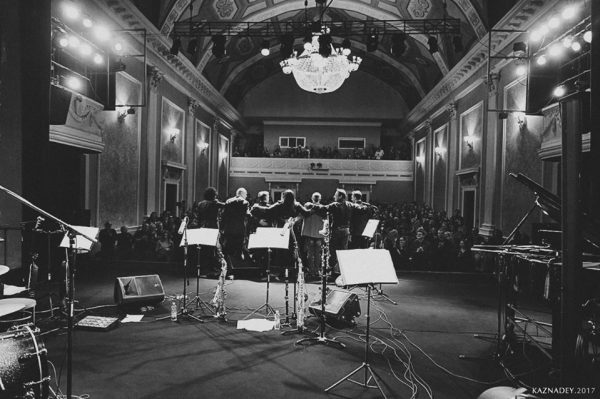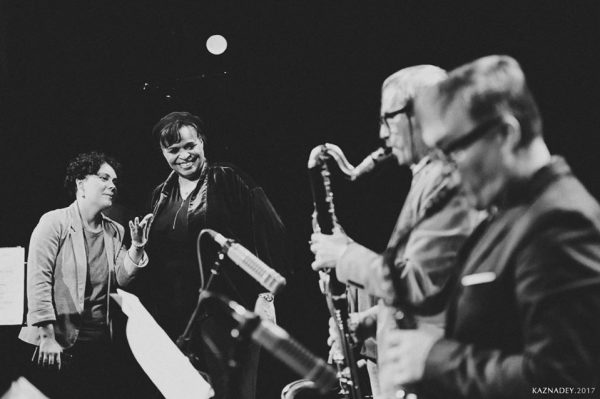 (In the picture above, to my left, is one of the best translators I've ever worked with: Agnia Asanovich.)
Not all the fun and games took place onstage! I got to go on their 'Good Morning Belarus' show for an early morning interview. I am amazed – and impressed – at how TV studios, all around the world, seem to be structured on the same format, technically and otherwise. Very professional!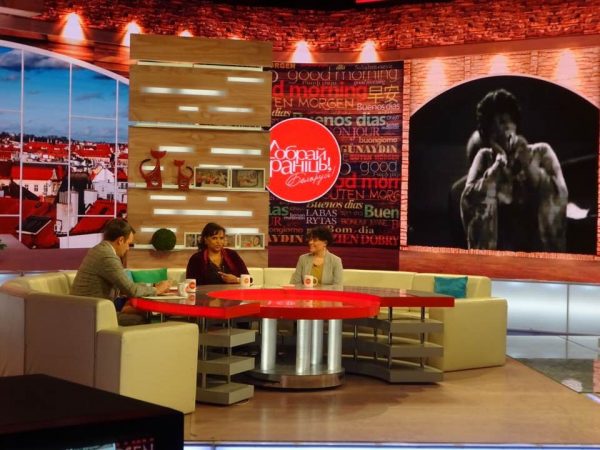 And there was a very nice long interview I did for the Belarus 'City Woman' magazine. It was an interesting concept: an alphabet Q&A.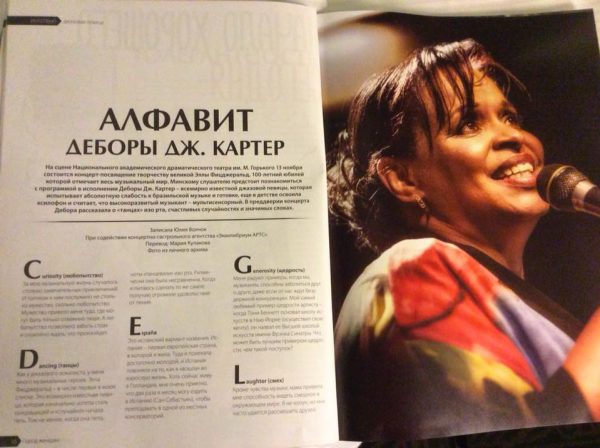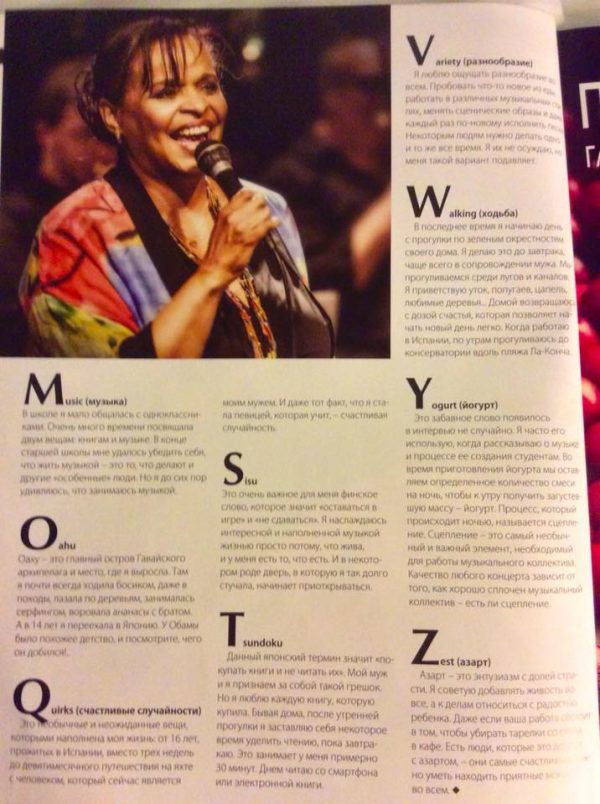 This trip, being organised by not only Equilibrium Arts, but also by the American Embassy (thanks Yuri Dudinsky!), meant that I also had the opportunity to give a masterclass at the Belarus University of Culture and Arts. There were some very focused and motivated young students there.
That was immediately followed by a lecture on Ella Fitzgerald at the Pushkin Library. What a kick!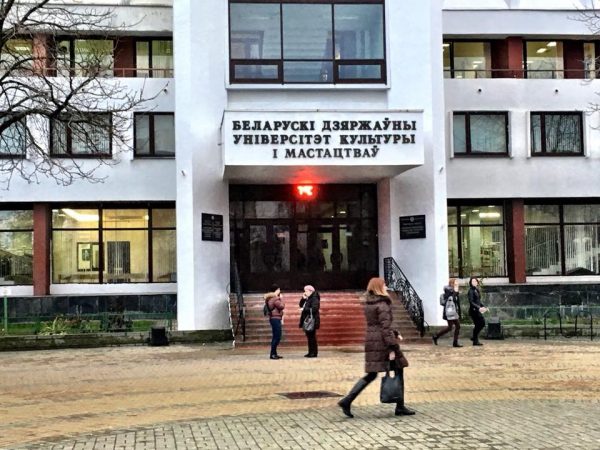 Overall I was so impressed by the beauty of the city of Minsk and the general vibe of relaxation and kindness I felt from everyone we encountered. It really felt more like we were in a Mediterranean city more than a North-Eastern, ex-Russian Republic. We felt nothing but warmth.
ITALY
Last tour of this year was 10 days of fun, food, and fandango with three charming top-musicians in Italy. It was the Christmas Jazz tours, where I got to mix in some great Christmas arrangements with my other usual numbers. I even took the time to learn the Italian version of 'Tannenbaum' which we surprised the audience with every night, and made them sing along. Fun!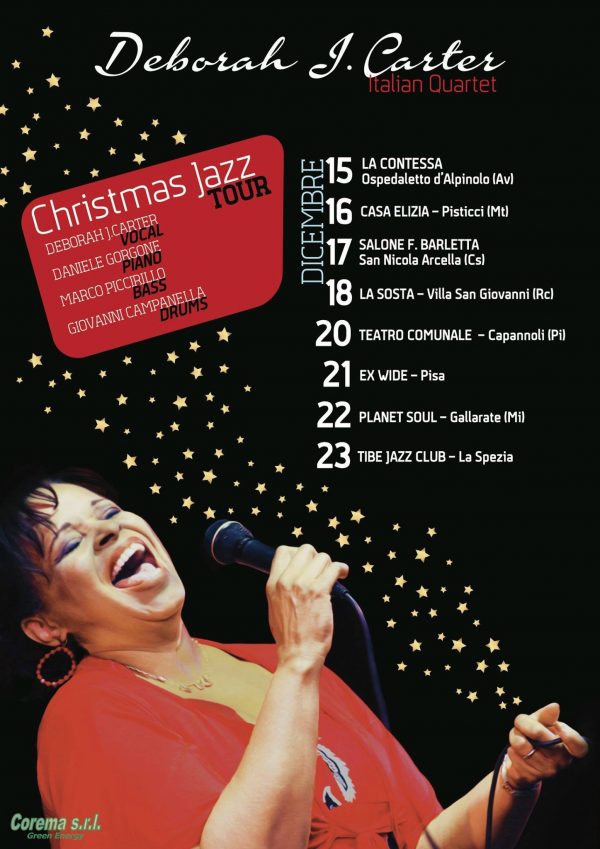 Below, from left to right: Giovanni Campanella – drums, Marco Piccirillo – double-bass, and Daniele Gorgone – piano.
[Note: These gentlemen are not only grandi artisti, but serious foodies as well. That meant that at every lunch or dinner table I was sampling new foods and learning about their immensely rich food culture. I went home with a heavier suitcase, carrying several delicacies home to use for our Christmas dinner.]
Grazie mille guys! 🙂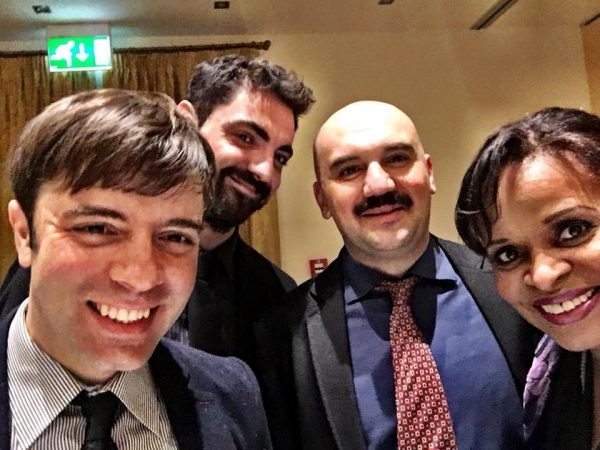 I work a lot with Daniele, since 3 years ago, and he arranges for me to come for short tours through Italy 2 or 3 times a year. This 10-day tour was probably the longest we ever did. We went from north to south and from east to west, playing in jazz events, theatres, and clubs. It was also interesting experiencing the different landscapes of Italy: the coasts, the snow-tipped mountains, the flat plains…
(You can see our route below.)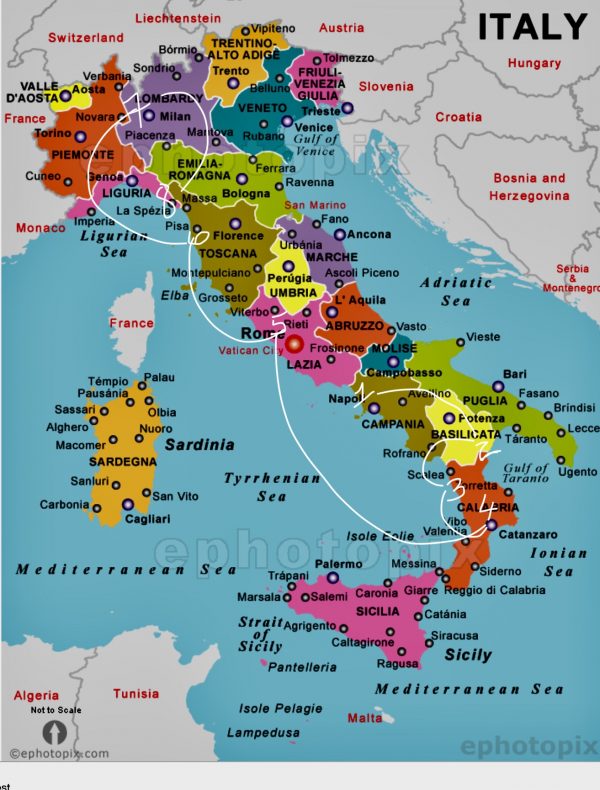 Our transport of choice, this time, was a gorgeous red MPV, which I called, "Rudolph the Red-Nosed Fiat".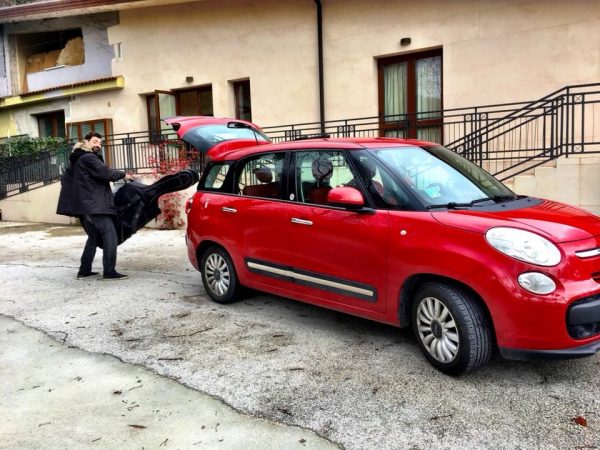 In that car we covered 3400 kilometers (2112 miles). There were so many great memories made in those days and it was an extreme luxury to see and enjoy so much of Italy…and not as a (real) tourist. I hope that each time I go, I can be building on my Italian vocabulary.
TEACHING
In between-time, I'm still enjoying my "day job" as vocal jazz teacher at the Musikene institute in San Sebastian Spain.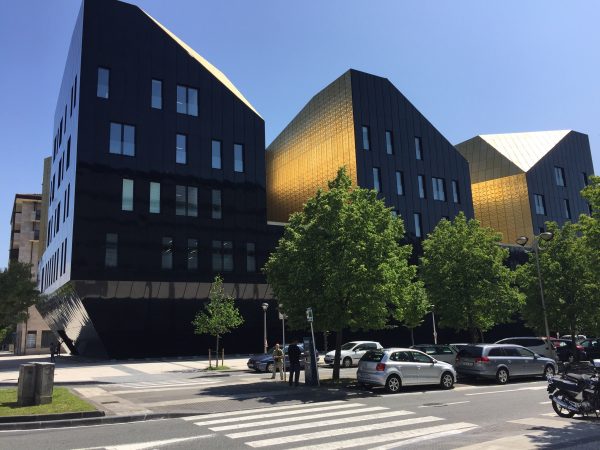 Somehow my schedule still coordinates well enough for me to fly there every two weeks to give intensive classes in vocal technique, improvisation and repertoire to this lovely talented bunch. (Looking quite happy on 'pizza night'.)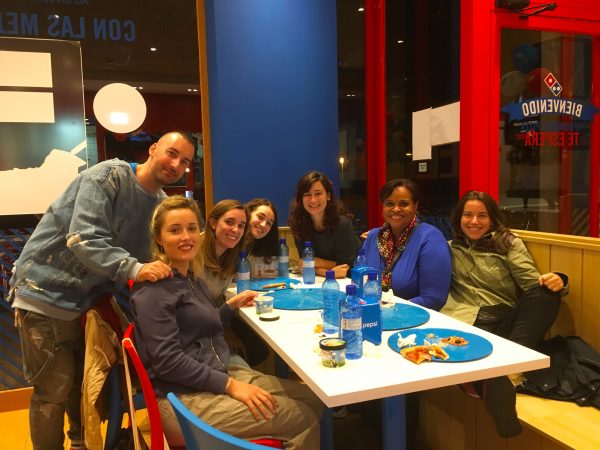 I'm so looking forward to 2018 and all the wonders it may bring!